#IstandwithAhmed breaks internet: Millions on clock watch for 9th grader detained for device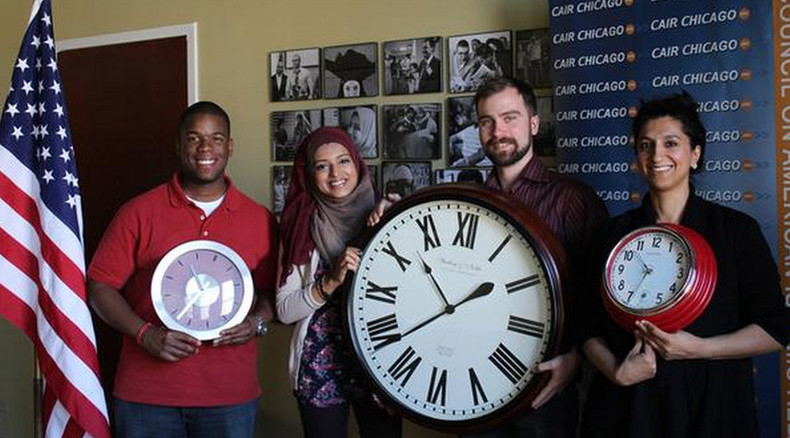 #IStandWithAhmed became the number one trending hashtag worldwide on Twitter after 14-year-old Ahmed Mohamed was handcuffed and arrested for taking a homemade clock to his Texas high school.
Ahmed, a ninth grader from Irving, Texas, was eager to impress his teachers with his newest creation – a clock that he invented in just 20 minutes, consisting of a circuit board and a power supply wired to a digital display. The clock and its wirings were all strapped inside a case.
However, his excitement turned to fear when he was pulled out of class by the principal and arrested after the clock's alarm went off during his English period.
"It looks like a bomb," his teacher told him. The boy was taken to a juvenile detention center and questioned by police before being released to his parents.
It was not until two days later that police announced they would not charge the teen for creating a "hoax bomb." Instead, they dropped the case.
LISTEN MORE:
Between Ahmed's arrest and the announcement that he would not face charges, social media exploded with tweets ranging from funny to supportive. All used the #IStandWithAhmed hashtag.
Many people took photos of themselves with clocks at work.
Pebble, which makes watches, tweeted a comment that was at once snarky and supportive, daring the Irving Independent School District to arrest them for making digital clocks.
Bobak Ferdowsi, an engineer at NASA's Jet Propulsion Laboratory nicknamed 'Mohawk Guy', offered Ahmed a job in a couple of years.
Other people pointed out the hypocrisy of the school's reaction ‒ as well as the police's initial treatment of Ahmed ‒ while offering their support to the frightened teen.
"If you can look at the photo of Ahmed in handcuffs, walking the hallways of his high school, wearing his NASA t-shirt, with the look of fear and anguish on his face and not feel disheartened then you are either 1) cold-hearted or 2) becoming immune to such incidents because it is entirely too commonplace," Alexandra Russell, an office manager in Washington, DC, wrote on Facebook.
"The adults in this situation have utterly failed him. I hope the rest of us adults can take a moment in our everyday lives to ensure we think more rationally instead of immediately acting out of fear and hatred," Russell continued. "I feel helpless that this is all that I can do but if it saves another situation like this one from happening again, I'm all in. #IStandWithAhmed."
Celebrities have also shown their support, from drummers to TV stars and hip hop moguls to politicians. Just as importantly for Ahmed, though, tech industry notables have rallied behind the teen.
Grant Imahara, known for his work as an electronics and radio control expert on the TV show 'Mythbusters', noted that he had similar interests to the Texas teen growing up.
So did tech journalist and author Andy Ihnatko, who wrote a blog post called 'I'm Ahmed. Except I'm Not Brown' about how his white privilege prevented him from being in a similar situation to Ahmed when he was the same age.
"I recognized this kid immediately. This was me when I was in public school. Even in sixth grade, my classroom cubby contained a lunchbox filled with batteries, wires, and random circuits," Ihnatko wrote. "During a frustrated, failure-filled period when I was trying to master photographic printmaking, my bookbag might have contained brown bottles filled with stinky chemicals."
"All of these stories come across as charming and nostalgic tales of a nerdy little kid on his way to a predestined career in science, math, or technology. There was never any negative fallout. Yes, partly because it was more than a decade before 9/11," the Chicago Sun-Times journalist continued. "But they're happy stories mostly because I was a white Catholic kid named Andy Ihnatko. Not a brown kid named Ahmed Mohamed, and not a black kid named anything."
Even Secretary of Education Arne Duncan condemned the school's actions.
President Barack Obama invited Ahmed to bring his clock to the White House.
Friends also stepped in to show how well-known the teen's love of engineering was to the school.
Anil Dash, the founder of Makerbase, is collecting ideas for how to help Ahmed and other students like him ‒ such as Kiera Wilmot ‒ in a Google survey.
The family has started a Twitter account for Ahmed, aptly named @IStandWithAhmed.
On Wednesday, they tweeted that they were meeting with a lawyer to "stand for his rights."
You can share this story on social media: