14yo Muslim electronics whizz-kid, arrested over homemade clock 'hoax bomb,' to emigrate to Qatar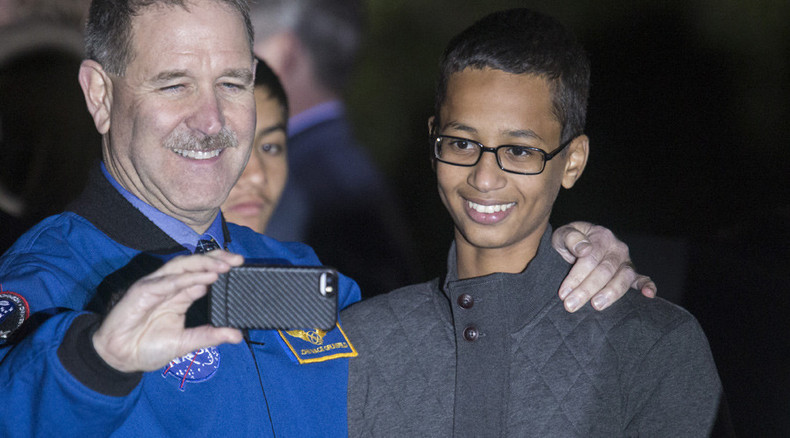 Schoolboy inventor Ahmed Mohamed, arrested after a homemade clock he brought to his Texas school was mistaken for a bomb, will move to Qatar to attend school there. His arrest caused a furor, with many saying the teen was targeted because he's Muslim.
"We are going to move to a place where my kids can study and learn, and all of them being accepted by that country," Ahmed's father, Mohamed Elhassan Mohamed, told The Dallas Morning News on Tuesday.

The boy's family has released a statement saying they had accepted an offer from the Qatar Foundation for Education, Science and Community Development to join its Young Innovators Program. The foundation will pay for the boy's high school and college education in Doha. Ahmed said he was really impressed with the program and hopes he'll "learn a lot and have fun, too."
The ninth grader from Irving, Texas, wanted to impress his teachers with his newest creation. So he put the clock in his bag and brought it to school on September 14. The device consisted of a circuit board and a power supply, wired to a digital display. It took Ahmed about 20 minutes to invent the gadget.

When Ahmed showed the clock to his engineering teacher, the boy didn't receive the reaction he had expected, however.

"He was like, 'That's really nice,'" Ahmed recalled, as quoted by the Dallas Morning News. "'I would advise you not to show any other teachers.'"
READ MORE: Ahmed the clockmaker: Challenging America's 'anti-Muslim bigotry'

Ahmed put the clock in his bag for the rest of the day. But when its alarm went off during English class, the teacher complained: "It looks like a bomb." Later on, he was pulled out by the principal and a police officer and led to a room where four other cops waited. The teen was questioned by police, and threatened with expulsion by the principal if he didn't make a written statement. Ahmed was taken to a juvenile detention center, where he was fingerprinted and had mug shots taken. He was suspended from school for three days.

Police initially said Ahmed could face charges of making a "hoax bomb," even though he never told anyone it was a bomb. Later the cops said they would not charge the boy with creating the device, adding that the case against him has been closed. The aspiring engineer has vowed to never bring another invention to school, however. His parents later withdrew Ahmed from the school.
Gotta love Ahmed. Moving to Qatar on a full school scholarship. Who needs crappy American public education these days? #IStandWithAhmed

— Samah (@srazakazi) 21 октября 2015
Mohamed's story has prompted the hashtag #IStandWithAhmed to trend globally, with support coming from ordinary people and tech company bosses, including Google and Facebook. "Having the skill and ambition to build something cool should lead to applause, not arrest," one of Ahmed's supporters, Facebook CEO Mark Zuckerberg, wrote.
Attending "Astronomy Night" at the White House on Monday, where Ahmed chatted briefly with President Barack Obama, the boy said the story has actually taught him a lesson: "Don't judge a person by the way they look. Always judge them by their heart."