Over half of troops who suffered blast concussions have brain scarring - study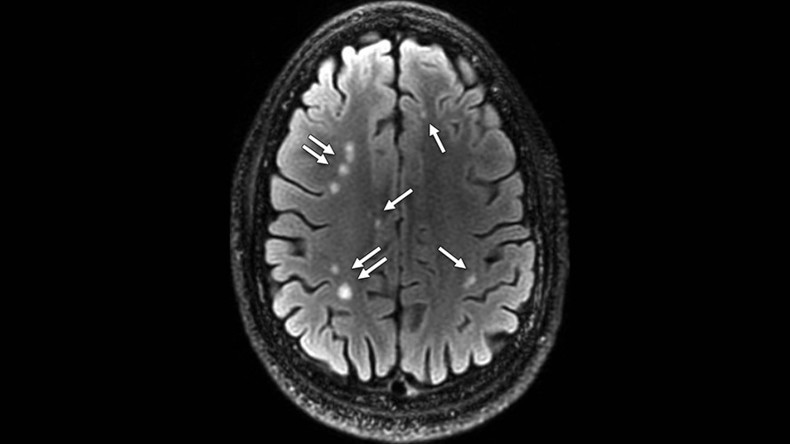 Brain scarring appeared on more than half of active duty service members who suffered blast-related concussions, according to a new paper by the US military. It is the largest study using advanced brain imaging of active service members ever performed.
More than 300,000 US troops have been diagnosed with mild traumatic brain injuries (MTBI) between 2000 and 2015, according to the Armed Forces Health Surveillance Center. Researchers at Walter Reed National Military Medical Center in Bethesda, Maryland used MRI scans to study 834 such military service members with MTBI ‒ commonly referred to as concussions ‒ that were related to blast injuries.
Just over 84 percent of the patients involved in the study reported one or more blast-related incidents, and 63 percent reported loss of consciousness at the time of injury. The MRI scans revealed the presence of white matter T2 hyperintensities, or brain scars, in 52 percent of the MTBI patients, the study's authors, led by Dr. Gerard Riedy, found.
"We were really surprised to see so much damage to the brain in the MTBI patients," Riedy said in a statement. "It's expected that people with MTBI should have normal MRI results, yet more than 50 percent had these abnormalities."
On top of the brain scars, the scans also showed pituitary abnormalities in almost a third of MTBI patients. Located in the base of the brain, the pituitary gland is important in controlling growth and development and the functioning of the endocrine system, which regulates sleep, mood and sexual function, among other things. Previous research has shown a decline in pituitary function in service members with MTBI, perhaps because of blast-related trauma, the researchers noted.
The study, which was published online in the journal Radiology, is the first in a series from Walter Reed's National Intrepid Center of Excellence on advanced brain imaging in MTBI patients.
"Working at Walter Reed, I saw people with MTBI get routine brain scans and I thought we could do better," Riedy said. "We have several more papers coming up that build on these findings and look at brain function, brain wiring, connectivity and perfusion or brain blood flow."
Currently, MBTI is diagnosed by analyzing more subjective symptoms, such as headaches, blurry vision, sensitivity to light, changes in behavior or mood, dizziness, fatigue or memory problems. The researchers are hoping to build a database of the advanced imaging scans to link an objective diagnostic tool with those subjective symptoms.
"The current diagnosis is based on subjective information. A diagnosis from an objective method like MRI would greatly enhance the possibility of treating veterans with the correct treatment paradigms," Riedy told Healthline. "The TBI [traumatic brain injury] treatments and PTSD [post-traumatic stress disorder] treatment paradigms can be vastly different. So in my book an accurate diagnosis is key to any hope at meaningful recovery."
However, the advanced imaging MRI scans are prohibitively expensive to use on all service members with MBTI.
"These MRIs are expensive and time consuming to perform and analyze. Evaluating all 300,000 service members who have TBI at our center with our one MRI system would not be possible," Riedy told Healthline.
In 2010, Riedy traveled to the Netherlands to program an MRI scanner as part of a $15 million effort to put three MRI systems into Afghanistan to examine soldiers closer to the point of their injuries.
"Unfortunately, politics and military command issues and structure lead to very limited use of these scanners in the field," he said.
Changing the protocols for the Department of Veterans Affairs and its hospitals is a slow process, according to Dr. Theodore Henderson, a Colorado-based psychiatrist and TBI researcher not affiliated with the Walter Reed study. He believes the VA needs to update its treatment protocols so that soldiers receive advanced imaging scans on a routine basis, including prior to deployment and follow-up scans after a tour of duty to be quantitatively compared, he told Healthline.
In July, Henderson and other researchers used single photon emission computed tomography (SPECT) technology to identify the difference between traumatic brain injury and PTSD in combat veterans. That research made it to Discover Magazine's top discoveries of 2015, placing 19th.
With the current subjective diagnostic tools, it is often difficult for doctors to differentiate between MBTI and PTSD because symptoms can be similar. However, their treatments are vastly different, and treatments for the wrong diagnosis may even cause additional harm, according to Riedy.
Even without an update to the VA's treatment protocols, though, the Walter Reed research is already benefiting military members and their families, allowing them to see the brain scarring of what had previously been called the invisible wounds of war, Riedy said in the statement.