Afghan War veterans in danger of mysterious degenerative brain disease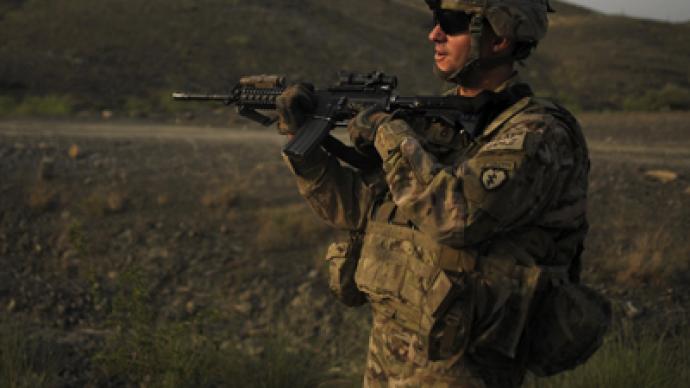 Doctors have discovered an incurable brain disease evident in a large number of soldiers returning from war, and estimate that as many as 250,000 US troops are at risk of being ravaged by the disorder next.
Chronic Traumatic Encephalopathy cannot be diagnosed or adequately treated yet, Col. Dallas Hack of the Army's Combat Casualty Care Research Program tells the Huffington Post, and scientists say that they think brain injuries developed during battle might bring up the likelihood of CTE occurring, which is characterized by bursts of anger and depression, and is believed to be able to impact motor skills and memory. And with 2.5 million Americans being able to call themselves veterans of the United States' wars in Afghanistan and Iraq, an increasingly large proportion of them are showing symptoms of CTE."We don't fully understand the incidence of CTE with the occurrence of traumatic brain injury," Air Force Lt. Col. Randall McCafferty, chief of neurosurgery at the San Antonio Military Medical Center, adds to HuffPo. "But we may be able to learn that early treatment of the initial acute [brain] injury may avoid this cascade from brain injury to CTE." In some cases, military researchers add, they believe CTE is linked to instances of suicide.So far research has suggested that those suffering from traumatic brain injuries are at a greater risk of CTE than others, which makes both soldiers and professional athletes alike more inclined to come up with a case of the disorder. More than 20 football players with the NFL have been diagnosed with CTE in the last few years, and at least two — former Chicago Bears star Dave Duerson and Hall of Famer Junior Seau — are believed to have suffered from CTE before committing suicide."It's tragic that Dave Duerson took his own life, but it's very meaningful that he recognized the symptoms of the disorder — it validates this condition," Dr. Ann McKee, a neuropathologist, told the New York Times last year. According to the doctor, Mr. Duerson's brain showed "no evidence of any other disorder."Speaking to NPR, author Chris Nowinski said that research conducted in only the last few years have allowed doctors to link CTE with athletes and others who are documented to have taken "too many blows to the head" during their professional career."So, you know, suicide is a very, very complex act; however, we do have a number of athletes with the disease who did commit suicide or multiple suicide attempts," Nowinski tells NPR, "And suicide is linked to brain injury. So we need to investigate that further."But with CTE only being identified in recent years, the correlation between cases in the Armed Forces and suicide attempts have not been fully analyzed yet. Meanwhile, though, statistics released earlier this summer from the US Department of Defense reveal that the suicide rate for active duty servicemen in 2010 is around one-per-day."Four years ago we really did not understand this injury at all," Dr. McKee tells reporters this week of the latest developments in the science community's research into CTE. "Now we know it exists. We know it's a problem."
You can share this story on social media: