Concussion epidemic linked to underreported US military suicide – study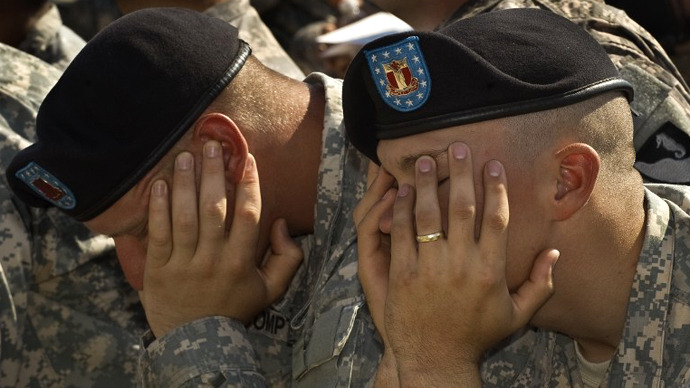 New research suggests a link between concussions and suicide in the US military, two frighteningly common issues that the Armed Forces have struggled to explain and curtail since rates started soaring 12 years ago.
Earlier this year the military released data showing that active duty service members are taking their own lives more frequently than ever before. There were 349 suicides among active duty military personnel in 2012, averaging just fewer than one per day. There are now more suicides than combat deaths.
This was made more disheartening by a study from the US Department of Veterans Affairs reporting that, between 1999 and 2010, older veterans committed suicide at a rate of 22 each day, an increase from 18 per day in the years before. 
There is a concern, though, that the numbers don't reveal the full scope of the military epidemic. Data was only collected from 21 out of 50 states because the remaining 29 states, according to Forbes, do not list military status on someone's death certificate.
While psychologists have linked the increasing suicide rates with depression and post-traumatic stress disorder (PTSD), the problems could be viewed an unavoidable part of serving in a combat zone. 
The commonality of roadside bombs and IEDs throughout the Middle East has resulted in a drastic increase in concussions, or mild traumatic brain injuries (TBI), among American soldiers. 
A new study published Wednesday in the journal JAMA Psychiatry proposes that service men and women in Iraq who have suffered multiple TBIs were more likely to think suicidal thoughts than their fellow soldiers who had suffered one or zero concussions. 
Craig Bryan, the lead author of the study, questioned 157 military personnel and four civilian contractors who were recommended after exhibiting suspected concussion-related symptoms. The subjects were asked about their history of head trauma, depression, PTSD and suicidal thoughts. Twelve per cent of respondents with two or more concussions said they had considered suicide.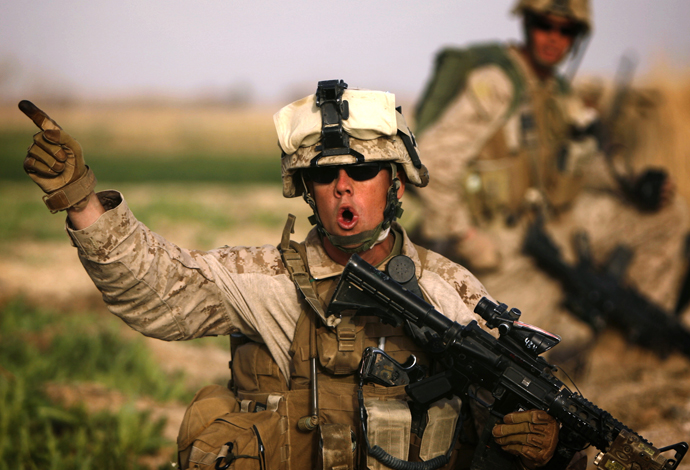 "All of a sudden the likelihood of being suicidal increased dramatically once you had the second head injury," Bryan told the Los Angeles Times, adding that it was likely some patients in the study lied about their history because of a stigma in the military about concussions as a weakness.
"They very much wanted to be returned to duty," he said. "They feel guilty letting everybody else down while they are in a clinic." 
Studies have shown that, sometimes, the decision to kill one's self is impulsive. Suicide prevention professionals often promote "means restriction" to separate someone in a depressive state from implements they could use to hurt themselves. Being around weapons is part of a soldier's daily routine. 
"If we want to limit suicide, we should put means restriction at the front because it works," said Dr. Bryan, who now works at the University of Utah.
Other experts stressed that deployment could hasten and escalate someone's suicidal thoughts, not necessarily be the starting point. Researchers said civilians generally decide to take their own lives because of a myriad of factors: mental illness, sexual or physical abuse, financial problems, addiction, and a failed relationship, just to name a few. 
"This is probably the keenest misconception the public has: that deployment is the factor most related to the increased rates of suicide," Cynthia Thomsen, a research psychologist at the Naval Health Research Center in San Diego, told the New York Times.
Those problems intensify as deployment separates one from their friends and family and potentially adds PTSD, concussions, or other pressures. A 2011 Pentagon study, as noted by the Times, found that roughly 50 per cent of troops who committed suicide in 2011 experienced a failed romance and another quarter were diagnosed with substance abuse. 
"There is a difference between a military at war and a military at peace," said Dr. Jonathan Woodson, assistant secretary of defense for health affairs. "There is no doubt that war changes you."