Obama 'a total pu--y,' Fox News commentator says after Oval Office address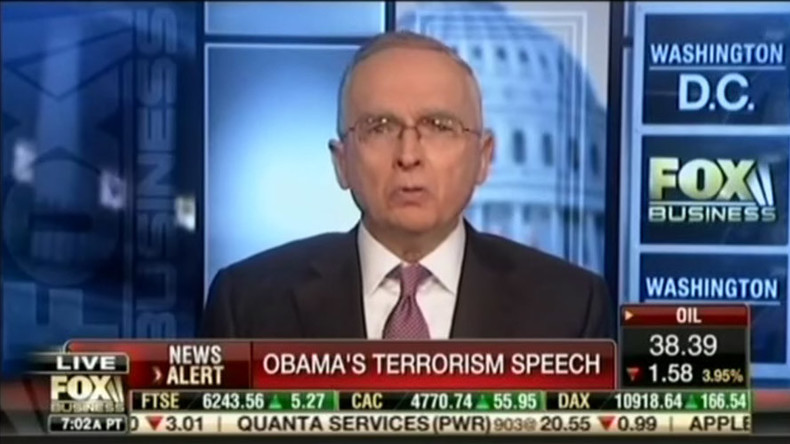 Reacting to President Barack Obama's terrorism address, one Fox News analyst and former US Army officer had some harsh words for the Commander-in-Chief - and got himself suspended for "inappropriate and unacceptable" language.
Retired Lt. Col. Ralph Peters appeared on Fox Business' "Varney and Co." to comment on Obama's Sunday address, which included appeals for increased gun control in the wake of the San Bernardino mass shooting last week. The attack resulted in 14 deaths and more than 20 injured. Linking the shooting with US strategy against the jihadist network Islamic State (IS, also known as ISIS and ISIL), Obama said that success in fighting global terrorism will not depend on "giving into fear."
"Look, Mr. President, we're not afraid, we're angry, we're pissed off, we're furious!" Peters said Monday morning. "We want you to react, we want you to do something! You're afraid. I mean, this guy is such a total pussy, it's stunning."
Though Obama-bashing is a regular occurrence on the Republican-leaning Fox News, this sort of language definitely goes beyond the boundaries of everyday discourse.
Upbraided by host Stuart Varney for using "language like that" on the program, Peters apologized.
The former Army officer has previously called for the assassination of Julian Assange, equated criticism of Israel with anti-Semitism and argued that Iran was "building a new Persian empire." Most famously, he redrew the borders of the Middle East in a 2006 edition of the Armed Forces Journal.
Later on Monday, Fox News announced they were suspending Peters, as well as a co-host of another show, for "comments on different programs that were completely inappropriate and unacceptable for our air."
Consequences. Some of us have to pay them. Gladly.

— Stacey Dash (@REALStaceyDash) December 7, 2015
"I felt like he could give a sh*t – excuse me, like he could care less," Stacey Dash had said earlier in the day, while co-hosting the Fox News show Outnumbered. Best known for her role in the 1995 comedy 'Clueless', Dash is a frequent Fox contributor.
Read more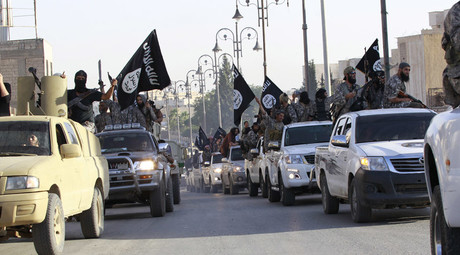 Despite Obama's call on Sunday for Congress to authorize continued use of force against the global terror organization, Peters went on to say that the American people "want action against Islamic State."
A US-led coalition has conducted around 3,000 airstrikes on IS targets in Syria since the bombing campaign began in September 2014. More than 95 percent of those strikes have been carried out by US aircraft.
During Sunday's speech, Obama said that the US will press on with airstrikes, special forces missions, and the training of local military and rebels fighting IS on the ground in Iraq and Syria.
There are currently about 3,400 American troops in Iraq, where large swaths of territory are controlled by IS. In November, the US announced that 50 commandos will be sent to northern Syria to advise anti-IS forces there. "Over time," the 50 forces will conduct raids in both Iraq and Syria "to put even more pressure" on IS, Defense Secretary Ash Carter told a congressional committee last week.
During his appearance on Capitol Hill, Carter also announced that the US military will deploy an expeditionary targeting force in Iraq. The special forces will eventually be able to "conduct raids, free hostages, gather intelligence, and capture ISIL leaders," Carter told the US House Armed Services Committee.
The raids are new territory for the US, at least officially, in its operations against IS. Since the US bombing campaign against IS began, Obama has stated that no ground troops would enter the mix, though his administration has gradually re-calibrated that position in public.
READ MORE: Pentagon confirms airstrikes killed top ISIS & Al-Qaeda leaders in Libya, Somalia

Obama's speech came at a time when polling shows most American respondents think the White House strategy on fighting IS is failing. Two-thirds of Americans believe that Obama doesn't have a coherent strategy for combating IS, according to a mid-November poll.
About half of the poll's respondents approved of sending ground troops to fight the terrorist group, with 63 percent believing such a deployment was inevitable. Only 20 percent believe airstrikes, the current weapon of choice for the US in dealing with Islamic State, will be successful in eliminating the group.
In September, a year after the US started its campaign against IS, Russia launched its own bombing campaign against terror groups in Syria. Washington has accused Russia of targeting "moderate opposition" forces, but Moscow insists that Russian aircraft are only targeting terrorists.
Critics say Obama's strategy, as articulated on Sunday, falls short if it does not include Russia in the global coalition fighting IS.
Speaking to RT after the address, Brian Becker of the anti-war organization ANSWER said Obama's speech "did not mention that Russia militarily intervened in Syria in a way that irreversibly changes the military dynamic and allows for an international coalition, and that the US government even to this day refuses to join with Russia and with the Syrian Arab Army in battling ISIL.
"So, all of the talk about ISIL being an existential threat, and at the same time omitting in the speech that there is actually a road map forward, that shows that the US government, Obama in particular, is still filled with so much imperial hubris that they can't acknowledge that reality."