Islamic State pulls in $80mn a month – survey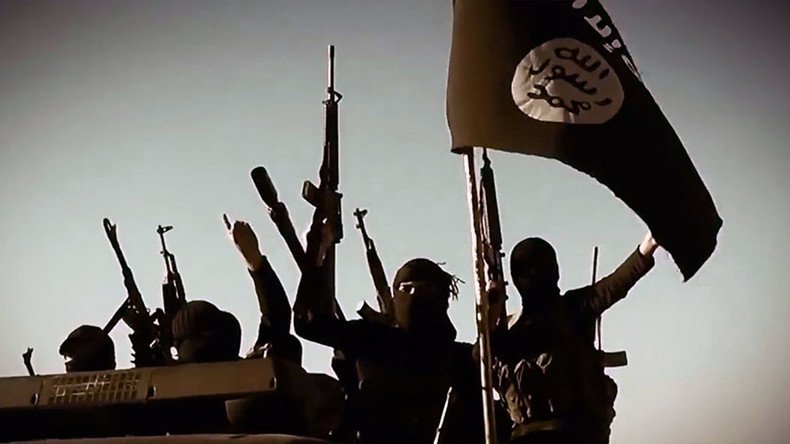 About half of Islamic State's revenues come from 'taxes' extracted from the population and businesses on its territories with illegal oil sales the second most profitable activity, a new report suggests.
The analysis was conducted by IHS Conflict Monitor - a monthly survey of IHS Aerospace, Defense and Security on Iraq and Syria – and maintains that Islamic State (IS, formerly ISIS/ISIL) has established an economic model that enables the group to finance its activities using the "inner" resources of the territories under its control.
Perhaps unexpectedly, the illegal oil trade is not the number one income industry for the terrorists. While oil contributes about 43 percent of revenues, taxation brings in as much as 50 percent of all income.
READ MORE: ISIS nets $50mn per month from smuggled oil - reports
"Unlike Al-Qaeda, the Islamic State has not been dependent on money from foreign donors, to avoid leaving it vulnerable to their influence," Business Wire wrote, citing Columb Strack, lead analyst for the IHS Conflict Monitor. "Our analysis indicates that the value of external donations to the Islamic State is minimal, compared with other revenue sources."
READ MORE: Ankara's oil business with ISIS
The IHS Conflict Monitor team has established that IS' $80 million revenues come from at least six basic sources: taxation of all business activities on the territories under their control; extraction and trafficking of oil (and gas); land expropriation and confiscation of properties; trafficking of antiques and drugs; criminal activities (kidnapping and bank robbery); running their own businesses (transport companies, real estate agencies etc.).
According to Ludovico Carlino, senior analyst at IHS and also on the IHS Conflict Monitor team, Islamic State "charge a 20 percent tax on all services," be it retail, agriculture, internet access and mobile phone networks, electric power bills or other industries.
READ MORE: 'ISIS trying to create state infrastructure with taxation & administration'
With government services inoperable in vast territories under the terrorists' control in Syria and Iraq, IS easily seized control not only of governmental functions, but also of operations of the black market and existing criminal networks, thus making profits even in the areas the group "is not directly involved," Carlino said.
While the US-led anti-Islamic State coalition has been bombing IS' installations in Iraq and Syria for more than a year, no video proof of the coalition's airstrikes on the terrorists' oil industry has been presented so far.
Still, the IHS experts believe that the coalition's airstrikes have inflicted significant damage to Islamic State's illegal oil business.
"According to information gathered from Arabic-language social media, and our in-country source network, efforts to target the Islamic State's sources of revenue are paying off," Columb Strack said, adding that "Tax revenues are much harder for the US-led coalition to target without having a substantial negative impact on the civilian population, and would most likely be counterproductive."
In the meantime, the Russian Air Force in Syria has conducted thousands of airstrikes on Islamic State's installations, eliminating, among thousands of other targets, refineries and oil depots run by terrorists, along with well over 1,000 delivery trucks transporting stolen oil to Turkey.
READ MORE: Russian airstrikes destroy 472 terrorist targets in Syria in 48 hours, 1,000 oil tankers in 5 days
Islamic State is "struggling to balance its budget" by cutting militants' salaries and hiking "taxes." For that purpose, Islamic State also intends to take under full control heroin production and trafficking in Afghanistan. The terrorists are already making $1 billion a year from Afghan heroin.
READ MORE: Fears ISIS taking control of heroin trade, using proceeds for Paris-style attacks
You can share this story on social media: