ISIS nets $50mn per month from smuggled oil - reports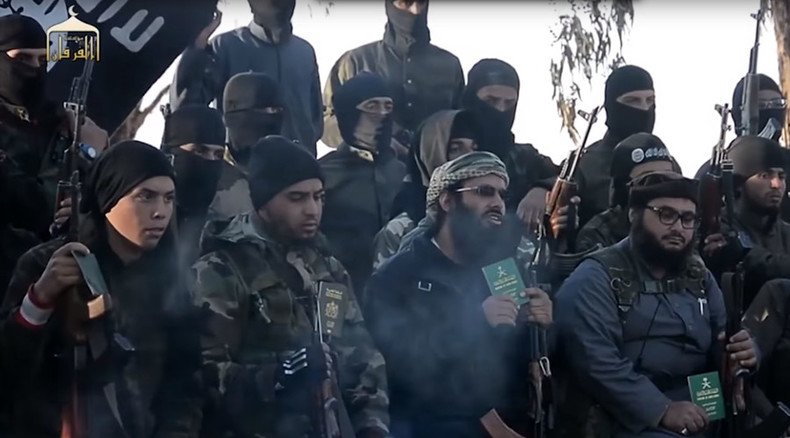 Islamic State militants are gaining at least $50 million per month from illegally selling crude oil from occupied oil fields in Iraq and Syria, Iraqi and US officials say. The jihadists are selling the 'black gold' at extremely low prices.
The extremists are reportedly selling crude oil at $35 per barrel, sometimes as little as $10 per barrel, four Iraqi intelligence officials told AP.
According to oil-price.net, the price of Brent Crude oil is currently $48.08 as of Friday.
The militants are transporting oil in small tankers for fear of airstrikes, the officials added.
READ MORE: 'ISIS smuggles $1mn of oil daily in water-tanks, fire-trucks'- refinery worker to RT
According to a member of Iraq's parliamentary energy committee and a former oil minister, Islamic State (IS, formerly ISIS) is extracting about 30,000 barrels per day from Syrian oil fields and around 10,000-20,000 barrels per day from Iraqis.
Overall, the extremists are making about $40-$50 million a month from oil sales, Iraqi officials said. AP secretly saw the report of IS's Diwan al-Rakaaez (the equivalent of Finance Ministry) which showed that this April the group earned about $46.7 million. The organization is controlling 253 oil wells in Syria, 161 of them are operational. Also 275 engineers and 1,107 workers are involved in wells maintenance.
IS oil revenues reached about $500 million a year, Daniel Glaser, a US Treasury official said, adding that the group collects hundreds of millions of dollars a year from "taxes" on commercial activities.
In fact the group has several small, rudimentary refineries located in trailers and employs senior officials from Iraq oil companies, officials said. They also identified the man in charge of the group's oil operations as Haji Diaa, but didn't provide further information about him.
LISTEN MORE:
In the meantime, the terrorist group has managed to get the necessary equipment and technical experts to maintain oil industry on the occupied territories.
IS management of its oil fields is "increasingly sophisticated," and this fact probably helped the organization slow down the degradation of the industry and infrastructure, US official told AP on condition of anonymity.
READ MORE: ISIS daily profits from oil, theft, human trafficking exceed $3mn – report
You can share this story on social media: