Fears ISIS taking control of heroin trade, using proceeds for Paris-style attacks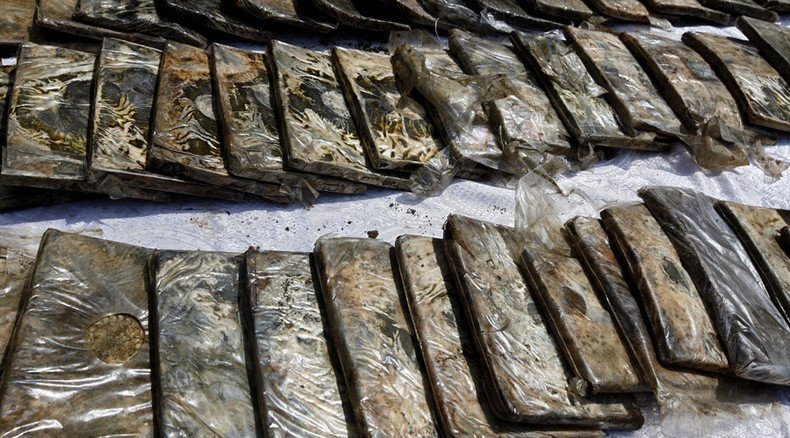 Russia warns that Islamic State is taking control of heroin production and trafficking. The terrorists are already making $1 billion a year from Afghan heroin and there are fears the proceeds are to be used for more Paris-style attacks.
The terrorists are shifting attention to drug traffic following Russian airstrikes inflicting irreparable damage to oil infrastructure controlled by Islamic State (IS, formerly ISIS/ISIL), Tom Keatinge, from the Royal United Services Institute (RUSI), told British Daily Star Online.
"This obviously make ISIS profiting from this more likely and as other sources of income are squeezed, such as oil by strikes in Syria and Iraq, they will be looking for other sources of revenue," Keatinge said.
IS has been spreading its influence in Afghanistan with remarkable intensity throughout the last year.
READ MORE: ISIS training militants from Russia in Afghanistan, 'US and UK citizens among instructors'
"If you look at the routes that opium take from Afghanistan, there is a lot of territory controlled by ISIS and therefore they will be making money out of it," Keatinge said. "ISIS is a group which makes money out of other people's endeavor.
"It is not clear that they are currently able to control production, but you see more and more reports that they are active in Afghanistan," he noted.
Russia's Federal Drug Control Service (FSKN) estimates IS is already making $1 billion a year through drug trafficking.
"The transit of heroin from Afghanistan though the Islamic State-controlled territory is huge financial sponsorship," Viktor Ivanov, head of FSKN, said earlier this year.
Ivanov warned that the area of Afghan poppy plantations is constantly growing and this year a record-high poppy harvest is expected, so opium and heroin would flow out of the country.
"This problem should be raised not only in Moscow, but also in the UN in general, because this is a threat not only to our country, but also European security," Ivanov said.
READ MORE: Russian anti-drug chief urges new plan to counter Afghanistan drug threat
Heroin production in Afghanistan has reached a truly industrial scale, with volumes of produced drugs rising 50 times since 2001, when the US-led Operation Enduring Freedom resulted in occupation of Afghanistan with troops of an international coalition.
The spokesman for Russia's Investigative Committee, Vladimir Markin, has written in an article for Izvestia that international terrorism is used as smokescreen by the global criminal groups.
"Daesh [an Arabic pejorative term for Islamic State] and Al-Nusra Front are nothing but political cronies for massive trafficking of oil, currency, weapons, items of cultural value, transplant organ harvesting and slave-trade," Markin wrote. "Impotent politicians, like Turkish and Ukrainian 'leaders', are only stooges that shadowy criminal bosses are pulling by the strings."
Markin cited an analytical report presented in 2010 by Russia's Center for Socially Conservative Politics, which defined international terrorism as "netcentric information-psychological warfare conducted by transnational organized crime against civilized states."
"Terror acts come as power politics vanguard in applying pressure on state and society," the report concluded, defining politicians and public characters justifying terrorism as a smear to transnational crime.
The UN estimates current income of drug producers of Afghanistan at $3.5 billion, while international drug syndicates make up to $100 billion selling Afghan heroin around the world.
You can share this story on social media: