Black Friday protests over Laquan McDonald shooting across US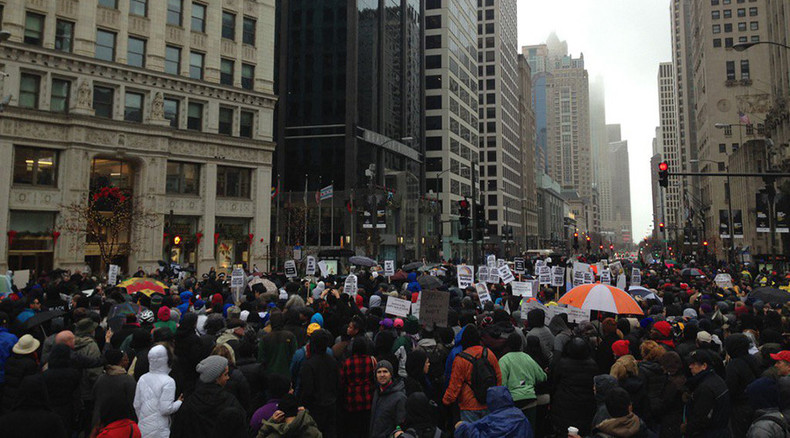 Black Lives Matter and minimum wage protests are taking place on Black Friday, the kick-off of the Christmas shopping season. Chicago, Illinois remains the center of the anti-police brutality deaths, while Walmart employees are targeting the retail giant.
While shoppers flock to stores to fight ‒ sometimes literally ‒ for the best offers, a march is planned along Chicago's Magnificent Mile, the city's premier shopping district. The Black Lives Matter demonstration comes three days after the release of a video that shows a police officer fatally shooting 17-year-old Laquan McDonald 16 times.
The Chicago protest is reminiscent of 2014's Black Friday demonstrations, which were centered near St. Louis, Missouri, but spread across the country. Last year, activists turned out at top retail outlets to protest a grand jury decision not to indict Darren Wilson, then a police officer in the St. Louis suburb of Ferguson, for killing Michael Brown, an unarmed teen, that August.
For the fourth year running, Walmart employees are protesting on Black Friday, pushing the US retail giant to once again raise its minimum wage. Currently Walmart pays its workers at least $9 an hour, but workers are asking for $15.
28 November 2015

02:43 GMT

Seattle police outfitted in riot gear and bikes stand in front of the mall doors.

02:31 GMT

Protesters chant "Block Black Friday" in front of Seattle's Westlake Center mall.

02:18 GMT

Sit in underway outside Seattle's mall Westlake Center, police are blocking the entrance to the mall.



00:57 GMT

Police are keeping Seattle protesters away from the Christmas tree at Westlake mall.

00:45 GMT

The protest in Portland appears to be over. Organizers estimate up to 400 people participated.

00:39 GMT

Protests in Chicago have shut down much of the main shopping district for the better part of the day, and are still going on in places.

Some of the protesters demand the resignation of Mayor Rahm Emanuel, State's Attorney Anita Alvarez and Police Superintendent Gary McCarthy.

00:36 GMT

Seattle police have arrested at least three of the protesters.

00:15 GMT

At Seattle's Pacific Place mall, sources report damage to the door of the Macy's store. Protesters have moved back to Westlake mall, where they were blocked by a police line.

00:06 GMT

In Chicago, police clashed with protesters blocking the entrance to Tiffany's on Michigan Avenue, which has been closed for a while.

27 November 2015

23:57 GMT

Seattle police are blocking the Black [Lives Matter] Friday protesters from entering Westlake mall.