'Black Lives Matter Friday': Boycotts, marches, arrests over Ferguson decision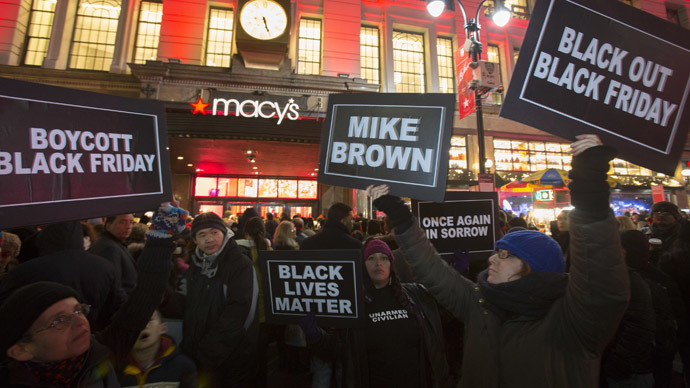 Demonstrators around St. Louis and across the nation targeted Black Friday with protests, turning out at top retail outlets to protest a grand jury decision not to indict a police officer for killing an unarmed teen. Arrests were reported in some cities.
Follow RT's LIVE UPDATES on Ferguson solidarity protests
Activists set up shop in multiple states around the US, including New York and California, as they expressed disagreement over the lack of indictment for Ferguson officer Darren Wilson. In New York City, protesters gathered in Times Square and outside of Macy's at Herald Square, where police eventually intervened and arrested multiple people.
More than 150 people showed up outside Macy's to protest, according to NBC New York. While some entered to the store itself holding signs reading "Shut it down!," most stayed outside chanting, "Out of the store, into the streets!"
Meanwhile, demonstrators in Oakland, California, briefly shut down a BART train station, forcing officials to scramble and find alternate routes for commuters. Dozens of people participated at the station in West Oakland, with some linking hands and "chaining" themselves to the train, keeping it from moving for more than an hour.
"There is a major delay system wide due to civil unrest at West Oakland Station," read a statement on the BART website during the protest. "There is no service into or out of San Francisco at this time. Please seek other forms of transportation."
Some 15-20 people were involved in halting the train, and several people were arrested for obstructing its movement, the Los Angeles Times reported.
BREAKING 30 black activists shut down all BART trains #Ferguson2Oakland#BlackLivesMatter@PhilofDreams_@NaomiAKleinpic.twitter.com/ndZTjMxj23

— joshua kahn russell (@joshkahnrussell) November 28, 2014
Near the heart of the Ferguson issue, demonstrators protested inside multiple St. Louis County Walmart stores, chanting "No Black Friday" and "Hands up, don't shoot!" – the phrase that has become synonymous with the fatal shooting of Michael Brown, 18, by Darren Wilson.
Activists made the most noise, however, when they essentially shut down a large St. Louis shopping mall. More than 200 people streamed into the Galleria mall, chanting "Stop shopping and join the movement." At one point, people laid down on the floor and obstructed movement. Despite the mass protest, no arrests were reported.
This mall is getting shut down. Stores are closing. Hope you got what you needed #BlackoutBlackFriday#Fergusonpic.twitter.com/hJWbjF9XUz

— handsupunited (@handsupunited_) November 28, 2014
On Monday, it was announced that a St. Louis County grand jury had decided it would not indict Wilson for the killing of Brown on Aug. 9. Wilson, who is white, has maintained that he used deadly force against Brown, a black man unarmed at the time of the incident, in self-defense. A majority of witnesses testified to the grand jury that Brown had his hands raised and was running away from Wilson as the officer shot him repeatedly.
Peaceful protesters at one Walmart were quietly dispersed Thursday night by a small contingent of police, Reuters reported, before moving on to a Target store nearby for a similar demonstration.
Shutting down Target #Ferguson#BlackOutBlackFridayhttps://t.co/tcGbOwE3Yb

— Shawn Carrié (@shawncarrie) November 28, 2014
Other Thursday protests, according to KSDK, took place at Walmarts in Manchester, West Florissant, St. Charles, and Maplewood, all of which are suburbs of St. Louis.
Protesters at #Ferguson Target call for shoppers to spend #NotOneDime#BlackFridayhttp://t.co/vtFf54S3mX (@ksdknews) pic.twitter.com/FDHEeMxh2z

— USA TODAY (@USATODAY) November 28, 2014
Some activists called for Black Friday boycott "to galvanize economically and influence change in the politics of American Justice pertaining to Law Enforcement vs Citizens."
"There's one language that America understands - it's the money," Rev. Timothy McDonald said, according to CBS News.
"@CandyCornball: REALNESS at Wall Street. https://t.co/w2uyHVJGLL" #BlackoutBlackFriday#BlackLivesMatter

— Dwayne David Paul (@DwayneDavidPaul) November 28, 2014
Others took to social media, using hashtags such as #blackoutblackfriday and #notonedime to encourage shoppers to patronize only black-owned businesses.
#BlackoutBlackFriday#BrownFriday#BrownFridayChi#BlackLivesMatter we are in Chicago at the Water Tower. Join us! pic.twitter.com/R8Y919VNol

— BYP100 (@BYP_100) November 28, 2014
Die-in at #BlackoutBlackFriday demo at Water Tower happening now. #Chi2Ferguson#NotOneDimepic.twitter.com/91YCC5GMEV

— R.Ⓐ.D (@ChicagoRADicals) November 28, 2014
"It's standing up and coming out to these events and showing support and meeting people, and organizing, you know, all of that is going to take a stand," activist Dionne Hamilton said, according to CBS News.
Overall, shopping crowds were reportedly thinner than usual on Black Friday, as retail observers say many are opting to shop on Thanksgiving night or online rather than to hunt for special deals on the morning after the holiday.
Holiday shopping "has moved from an event on Black Friday morning to a multi-day event," Target CEO Brian Cornell told Reuters.
"The consumer clearly enjoys shopping on Thanksgiving," he said, adding that Target sold 1,800 televisions per minute nationwide from 6 p.m. to 8 p.m. ET on Thursday night.
Walmart reported that Thanksgiving Day was the retail outlet's second-highest online sales day after last year's Cyber Monday, the Monday after Thanksgiving in which retailers promote various shopping deals.
The National Retail Federation predicted that November and December sales this year will go up 4.1 percent, to $616.9 billion, which would mean the top holiday shopping season in three years, according to Reuters.
Last year, some 247 million shoppers spent $59.1 billion over Thanksgiving weekend.
Reuters also reported that only a handful of unruly incidents occurred Friday morning, as shoppers competed for the best deals. For example, police had to break up a fight over Barbie dolls in Los Angeles, according to CNN.
You can share this story on social media: