'No Justice, No Profit': Hollywood stars join #BlackoutBlackFriday online campaign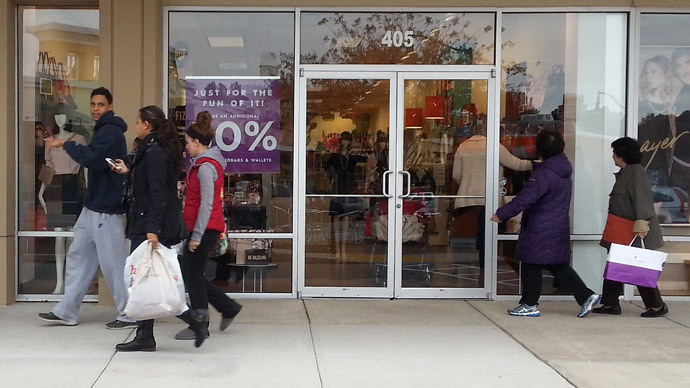 The 'No Justice, No Profit' campaign – led by a movement of celebrities and activists – is calling for a nationwide boycott of retail outlets to protest the recent grand jury decision not to indict a white officer for killing an unarmed black teenager.
Spearheaded by the Justice for Michael Brown Leadership Coalition, the campaign is being promoted under Twitter hashtags such as #BlackoutBlackFriday and #BoycottBlackFriday. Supporters believe justice wasn't served for Michael Brown when Ferguson Police Officer Darren Wilson was not charged with a crime for fatally shooting the unarmed black teen. They also see his case as a symptom of a larger issue in the US surrounding race and the criminal justice system, and how it unfairly discriminates against certain races.
The campaign gained traction on social media Tuesday night and Wednesday morning. It has attracted support from celebrities like Russell Simmons, Michael B. Jordan, and Hollywood stars like Tyrese and Isaiah Washington.
No Justice, No Profit: Corporate/public power only speaks $. So let's talk to 'em. #BlackOutBlackFridayhttps://t.co/pS5NQosVwc

— jesseWilliams. (@iJesseWilliams) November 25, 2014
READ MORE:Pepper spray, arrests as Ferguson protesters storm St. Louis City Hall (VIDEO)
The reasoning behind the campaign is simple. Supporters believe if the economy is unsettled, elected and law enforcement officials will pay attention to their case. Black Friday is the biggest shopping day in the retail calendar. Last year, some 247 million shoppers spent $59.1 billion over the weekend.
Promoting the boycott during a news conference in the wake of the grand jury decision, Missouri pastor Rev. Spencer Lamar Booker said Brown's death was "groundless" and "senseless."
"No matter how convoluting his others' attempts to make a legal argument, an illegal act was committed called murder," he told reporters, as quoted by the UK-based Independent.
READ MORE:#LondonToFerguson: Protests spread across London
Together we can stand up + spark change. Join @UnitedBlackout for #BlackoutBlackFriday: http://t.co/iPvbdU9rSJ RT! pic.twitter.com/zLJigp9vH0

— Russell Simmons (@UncleRUSH) November 25, 2014
Organizers say the boycott is a way to link the power of the purse with a civil rights issue, taking a leaf from the civil rights movement, when protesters used sits-ins and boycotts to draw attention to the issues of segregation, voting, and equal access. They want to show the impact that black lives can have when they don't spend millions of dollars shopping, and the effect that can have on American business.
Come join @MillionHoodies & @RockawayYouth for #BlackoutBlackFriday - Herald Square! pic.twitter.com/JOQ63WIQVO

— Dante Barry (@dantebarry) November 27, 2014
"We are asking you to withdraw your participation the entire weekend," New Black Panther Party member Dacia Polk said to IBT. "There will not be business as usual in America while our people are being killed."
READ MORE:Dozens arrested, traffic blocked in 170 cities on Day 2 of Ferguson protests
You can share this story on social media: