Walmart strike goes nationwide on Black Friday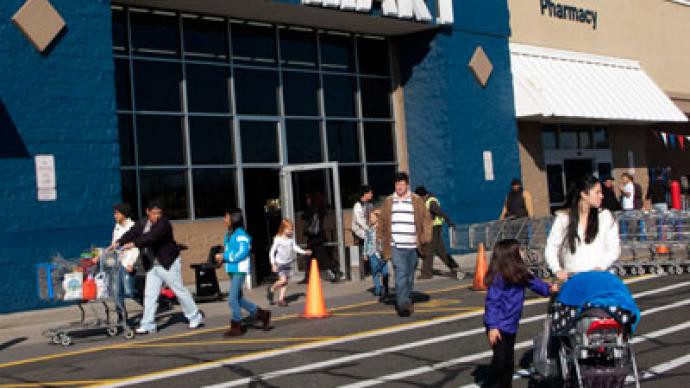 Angered by low pay and poor treatment, Walmart employees across the US went on strike during the retailer's Black Friday event, protesting to draw attention to their working conditions.
For the first time in Walmart's 50-year history, workers at multiple stores walked off their jobs to go on strike. Walmart's 1.4 million US employees are not protected by a labor union and have recently filed more than 20 charges of unfair labor practices with the National Labor Relation Board (NLRB).In the weeks leading up to the planned strike, Walmart attempted to get an injunction to halt the protests planned for the Thanksgiving weekend. But federal labor officials said there was not enough time to make a decision on the injunction before Thanksgiving, thereby making it impossible to halt the protests.When Walmart opened its stores to begin its Black Friday sales at 8 p.m. Thursday, a number of workers walked off their jobs and picketed the retailer. More than 70 Los Angeles employees from nine stores left their jobs Thursday and 250 workers and supporters protested outside the Pico Rivera Walmart store, the Huffington Post reported.Holding signs that read, "One Strike for the Freedom to Speak Out" and "Walmart Strike Against Retaliation", the workers, who organized under a group they called OUR Walmart, hoped to draw attention to their cause."We're not trying to shut down business; we are supporting our co-workers who speak out for better working conditions," OUR Walmart member Yesenia Yaber told the Wall Street Journal.The protesters are demanding a minimum hourly pay of $13, more full-time work and more affordable healthcare."What we want customers to do when they come into Walmart is ask the manager, 'Why can't you give them better schedules? Why can't you pay them more?" protest organizer for the United Food and Commercial Workers Union, which works with OUR Walmart, told KSTP TV.
In the days leading up to the Black Friday shopping events, Walmart refused to acknowledge the wishes of its protesting employees, claiming that the few who protest will not have much of an impact on their sales. The retailer on Friday published a press release reporting its "best ever Black Friday events", which "saw larger crowds than last year and a huge response to its first ever one-hour guarantee on key electronic items".The retail chain claims that only 26 Walmart protests occurred on Thursday night, many of which did not include any Walmart associates. But while the retailer appeared unconcerned on Black Friday, its actions leading up to the protest point towards a possible attempt to try to silence its employees.Walmart employees recently filed a charge on behalf of Monique Velasquez, a Pico Rivera employee who joined protesters on Thursday. The woman told the Huffington Post that once she joined the advocacy group OUR Walmart, her hours were cut from 30 hours a week to eight. As a single mother of five children, she was unable to pay any of her bills with just eight weekly hours of pay."I'm striking because I was retaliated against for speaking out," she said."Anyone who goes against management, you're pretty much putting a target on your back," she added. "They intimidate you by cutting hours or picking on you in any way they can."Another unfair labor practice charge OUR Walmart filed with the NLRB claims that Walmart's human resources department violated the National Labor Relations Act by instructing store managers to threaten workers with termination and disciplinary actions if they participate in the strikes.Those who were willing to put their jobs on the line to speak up against their employer took to the streets, protesting peacefully outside of the retail chain without obstructing the entrance. Strikes were scheduled in Chicago, Milwaukee, Washington D.C., Dallas, Los Angeles, Sacramento, California, San Francisco and Seattle, most of which began in the early morning Friday.And while millions of Americans stocked up on towels, DVD players, video games, televisions and bicycles, many of Walmart's poorly paid employees were forced to sacrifice Thanksgiving dinner to work through the night.
You can share this story on social media: