A growing war on unions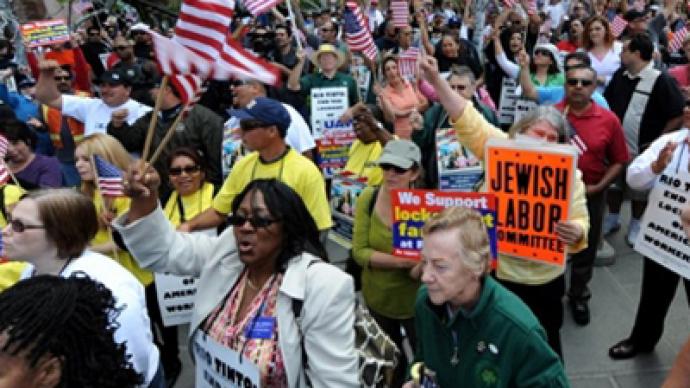 Since the 1970s, some analysts and activists argue, corporate America has been waging war on organized labor, on the unions that brought living wages, healthcare, and many of the things Americans view as rights today.
In recent months some elected state officials and conservative pundits have ramped up that war, bringing it to the public sector. They are calling not just for cuts to wages and benefits in the name of austerity, but also proposing laws to undermine the influence and very existence of labor unions.Some argue unions themselves are to blame, that they've ballooned to become some of America's most powerful interest groups whose huge memberships are mirrored by comparably large wallets and whose leaders are deeply entrenched within the political system. Thousands of public union workers defending their rights on the streets of Wisconsin may now be finding what one local steelworkers union president has been dealing with for months."If you stand up for what is right anymore in labor in unions you're not well accepted," said Darrell Lillie, president of the USW 7-669 in the rural Illinois town of Metropolis.Gone are the days decades ago when unions were given the nod by society and one in every three American workers belonged to a union.Nowadays just 7 percent of private sector workers are unionized and even those numbers are under attack, as evidenced by more than 200 workers in Metropolis, Illinois, who've been, for the last 8 months, locked out of the Honeywell plant where they work because they don't want to lose their benefits."The benefits they seek to take from us are basic benefits that every worker should be entitled to," insisted Stephen Lech, executive board member of the USW Local 7-669 and one of the locked out workers.Honeywell wants employees to pay more for healthcare but workers say it is really about breaking the backs of the union. And for these united steelworkers who say unions nationwide are being squeezed, giving up their benefits for corporate profit would mean further defeat nationwide. "If we were to settle for what was on the table it would be detrimental to the labor movement and to the working middle class," said Lillie.But for workers in the US this is nothing new. Already their rights in this country pale in comparison to other developed nations when it comes to issues like job security, vacation, healthcare and maternity leave.And activists say the decline in American unions to record lows has not happened by chance. "It comes on the heels of basically 50 years of post World War II a pretty brutal war that's been waged on unions and the working class," said Max Uhlenbeck, development coordinator at community organization the Brecht Forum in New York.It may not be of the bloody proportions seen in the early 20th century during the Ludlow Massacre when state militia outright shot and torched miners. Observers say it's been a quiet white collar war of late, but it is eroding workers livelihoods nonetheless. It's being fought with political power and fear."The corporate mind identified a workers movement with trying to transform the US into a socialist or communist utopia and they sold this myth [to the public]," remarked Pepe Escobar, correspondent with the Asia Times.Now the fight has been taken to the public sector where union membership, at a heftier 36 percent, is blamed for bringing down broke cities and states."Now you have certain unions specifically the public employees unions in many cases exploiting and abusing the taxpayers," argued Governor Tim Pawlenty (R-Minn) on Fox News. But some see this as the escalation of a war now hitting the working and middle class from all sides.Economists Richard and Max Fraad Wolff said public union salaries and pensions are simply being made a scapegoat for the country's economic woes."It really is a crisis whose cost is being shifted onto public employees," said Richard Wolff, emeritus economics professor at the University of Massachusetts.Public workers are an easy target for officials wanting to avoid the political landmine of raising taxes."And that means you'd have to potentially tax wealthy people who support your campaign," commented Max Fraad Wolff, economics professor at The New School. "Which we have a hard time doing in the United States for reasons you don't need me to explain to you."Explanations aside, this war marches on, leaving the jobs and benefits millions of workers have come to count on as rights and possibly their ability to fight together for them in ruins.Radio host of Sly in the Morning John Sylvester said there has been an ongoing war against union and workers for years, and Wisconsin Republicans and Governor Scott Walker are continuing that trend. "The labor folks here are finally beginning to see what they did to the rest a long time ago," he said. "This is the home of public sector unions."Labor is under attack in America by corporate interests, and the movement must rise up to fight it.
You can share this story on social media: