BlackLivesMatter solidarity protesters arrested in New York City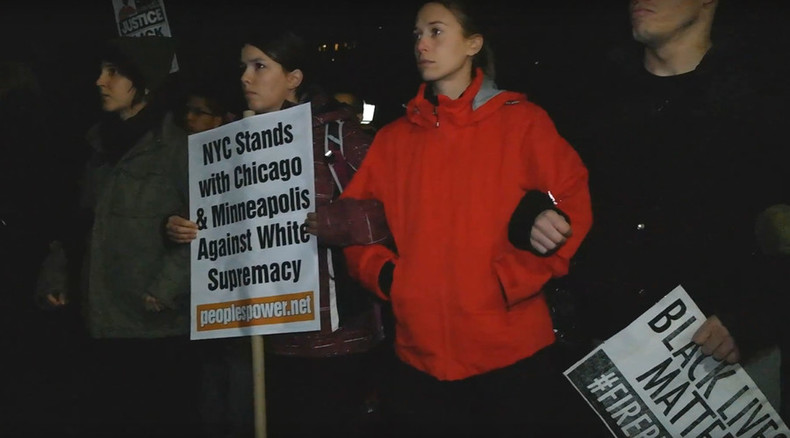 Several demonstrators were arrested in New York City at a peaceful Black Lives Matter protest expressing solidarity with crowds in Chicago and Minneapolis.
Almost a thousand demonstrators rallied in Washington Square Park in Manhattan and marched protesting police brutality in New York City and across the US.
NYPD officers have arrested at least a dozen protesters, eyewitnesses say, describing the police response as "extremely iron-fisted."
The police are "just charging into groups and grabbing people," one witness said.
Multiple arrests during the New York protests with police forcing people onto the sidewalks.
Marchers have reached New York's Union Square. In addition to "Justice for Laquan McDonald," activists are calling for the shut down of Precinct 4 in Minneapolis with the hashtag #4thPrecinctShutDown
Police are keeping calm but outfitted with plastic handcuffs.
Police in New York while keeping protesters on sidewalks, often were blocking protesters at street crossing sections.
With one protest group rallying at Union Square, another group headed to midtown taking the protest inside Macy's store, chanting "Kids are dying, while you're buying!"
Activists in New York City head towards Times Square chanting "What's the solution? Revolution!"
A solidarity march in New York on Wednesday had activists winding their way through the streets from Washington Square to Union Square. A group took the protest through the block-long shopping store Macy's to end in Times Square.
Holding hands in a massive circle, activist ended the night's protest with Assata Shakur's prayer "We have nothing to lose but our chains."
Read more: Crowds rally for second night in Chicago
In Chicago, protests followed the release of dashboard camera footage showing last year's killing of Laquan McDonald. Officer Jason Van Dyke was charged with first-degree murder for firing into McDonald 16 times.
Protesters have besieged the 4th Precinct of the Minneapolis Police Department for more than a week. They are demanding a probe into the death of Jamar Clark, shot in the head during a domestic violence call on November 15.
On Monday, several protesters were injured after three suspects opened fire on the crowd outside the 4th Precinct.
Last month, New York City was the site of the three-day protest against police brutality dubbed Rise Up October, which also featured a demonstration at Washington Square Park.