Justice for Jamar Clark protests continue after 5 shot, police hold 3 suspects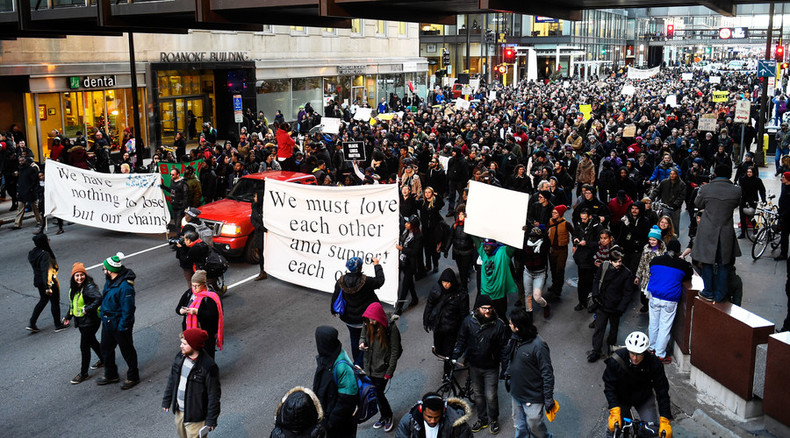 Marking their 10th day outside the Minneapolis 4th Precinct Police Station on Tuesday, activists said their "occupation" would last until demands regarding the Jamar Clark police shooting death were met, despite Clark family pleas to halt the protest.
Activists saw their cause strengthened a day after gunfire injured at least five protesters. Police arrested two suspected shooters Tuesday. One was determined not to be involved while the other, a 23-year-old white man, remained in custody. Later, two new suspects turned themselves in at about 2:30 p.m., both white males, one 26 and the other 21 years of age, as reported by KSTP.
Minneapolis Police Department, Hennepin County Attorney's Office, and the Federal Bureau of Investigation are handling the case, and more suspects may still be at large.
The shooting didn't quell support for the protests, guided by #Justice4Jamar and #4thPrecinctShutdown on social media, as activists counted roughly 1,000 others among them in the Black Lives Matter-led encampment and march from police headquarters to City Hall.
"Out of imminent concern for the safety of the occupiers, we must get the occupation of the 4th precinct ended and onto the next step," brother of Jamal Clark, Eddie Sutton, said in the Clark family's statement following the shootings.
But the next step for many was to join the march, and with strong support in forms of donated food, there was no stopping the planned action.
The march took a pause at Nicollet Mall where speeches were held, including one from an 11-year-old boy named Taye, who recounted his experience the previous night getting "maced right here by police officers."
Protesters marched back to the 4th Precinct with music and food in the air.
Back at the 4th Precinct, as the temperature dropped into the low 40's (Fahrenheit), people found ways to stay warm.
Jamar Clark, the deceased 24-year-old whose November 14 police shooting death sparked the demonstrations, was reportedly interfering with paramedics called out to a birthday party for Clark's girlfriend at the time of the incident. Responding police officers Mark Ringgenberg and Dustin Schwarze reportedly believed Clark had assaulted his girlfriend. Though no details have been officially provided, witnesses say Clark, who was unarmed, was shot while handcuffed. The US Department of Justice has an open civil rights investigation into the matter.
In addition to the Clark family, Minnesota Governor Mark Dayton called for the protests to cease over safety precautions. He called the November 23 shooting a "cowardly, criminal act." Black Lives Matter media representative Miski Noor called the shooting an act of terrorism, and the Black Lives Matter Minneapolis Facebook page called the shooters "white supremacists."