KKK took my mayor away? Oklahoma official's job in jeopardy after hubby's 'prank'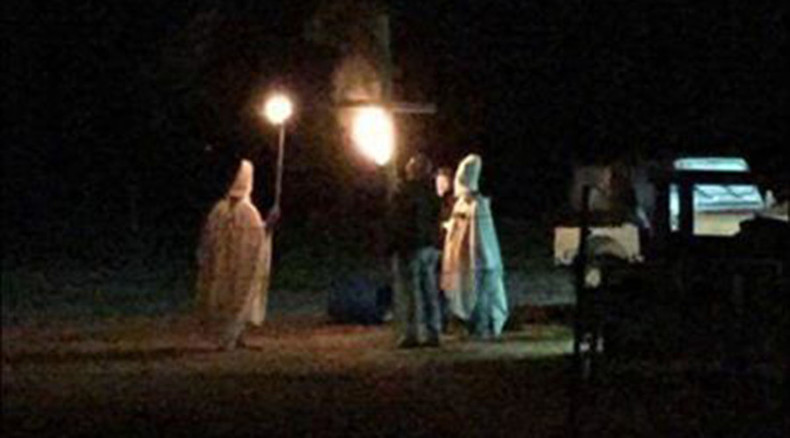 A small-town Oklahoma mayor is under fire after her husband and friends donned white robes and hoods to resemble Ku Klux Klan attire as they held crosses around a bonfire in what the mayor called a Halloween "prank gone bad."
A photo that has spread widely on social media shows Cary Sharp, husband of Lahoma mayor Theresa Sharp, standing around a fire on Saturday night with three other men. Two of the figures are wearing white robes with pointed hoods, the traditional clothing of the KKK.
Cary Sharp said he and his friends decided on the stunt after drinking some beers on Halloween night, though they did not burn the cross, he emphasized.
"There was no cross that burned," Cary Sharp told the Enid News & Eagle, a local newspaper. "It was held behind the fire to look like it was burning, but there was no fire. The pictures we've seen claimed they were burning one, but there was not one burnt."
A neighbor reported the group to the local authorities, according to the Enid News & Eagle.
"We are a small community, and in no way do I feel this represents our views as a whole," said witness Misty Meister. "It is upsetting due to the fact that we live in a community with families of different ethnic backgrounds, and this is a symbol of hate and intolerance."
Garfield County Deputy Aaron Moore approached the group, but told the neighbor that, although the men were acting "in poor taste," he could not make them stop.
"I advised the group why I was there, and that although I know it was a joke that they save them and myself anymore headaches to not burn anymore crosses," Moore wrote in his report of the incident.
Mayor Theresa Sharp said she was not involved in the stunt.
"It was poor judgment on the part of him and his friends," she told The Oklahoman. "I was not involved. I was trick-or-treating with my child. Myself and the city do not endorse the behavior that was reflected that night."
READ MORE: KKK member claims undercover agents coerced him into building anti-Muslim 'death ray' device
Cary Sharp expressed remorse over the incident, which has garnered attention far and wide thanks to social media.
"I'm very sorry that this happened," he told The Oklahoman. "I have huge regrets, trust me."
Garfield County Sheriff Jerry Niles said the "Halloween prank gone bad" showed "very poor judgment."
"It was done in very, very poor taste," Niles said. "It brings up bad images of things that 99.9 percent of Americans, especially Oklahomans, are adamantly against. We're all Americans, born and raised here, and we have a responsibility to honor the Constitution and the rights of others and feelings of others."
Mayor Sharp said some in the Lahoma community are pushing for her resignation following the incident.
"I know they are calling for my resignation, and I believe that's something the board members and myself will probably discuss in the future," she told The Oklahoman.
The Garfield County Sheriff's Office has not notified higher authorities of any pending investigation of the incident, the local district attorney said. Such a probe could happen if law enforcement deems the gathering a hate group, as it first appeared to be.
Lahoma, a town of 650 people, is about 70 miles northwest of Oklahoma City.