'Get the blacks out': Racist political fliers show KKK cop pointing gun at black kid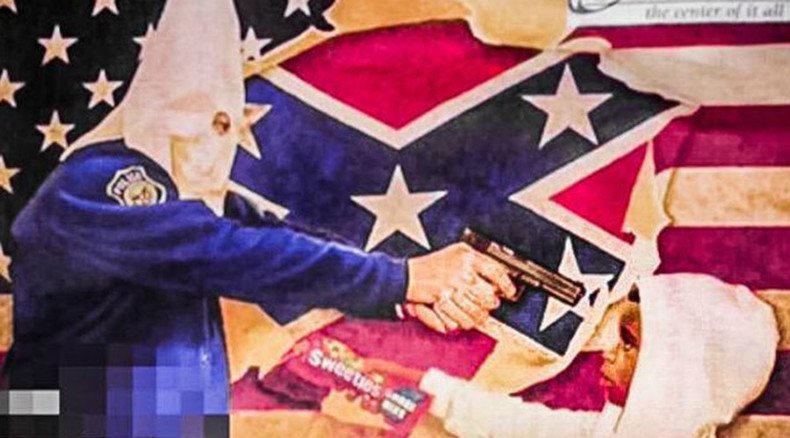 Residents in a Detroit suburb were outraged on discovering political fliers depicting a cop in Ku Klux Klan gear pointing a gun at a black child. The fliers encouraged people to vote for white candidates and "get the blacks out."
The fliers were dumped in the majority black neighborhood of Southfield, Detroit. Residents began finding them on Friday.
One showed a police officer wearing a KKK-styled hood and pointing a gun at the head of black child wearing a hoodie and holding a bag of candy, an image suggestive of black teen Trayvon Martin, who was shot and killed in Florida in 2012.
Southfield resident Tamiko Denson told Fox affiliate WJBK that it wasn't clear who had distributed the fliers.
"This to me says he [Trayvon Martin] needed to be killed and that's someone's child and it's being used in this message," Denson told WJBK, referring to the flier showing the KKK police officer.
The background also shows a Confederate flag bursting through the stars and stripes of the American flag, with the caption "Southfield the center of it all."
Other fliers show the face of Martin with the caption: "We will stop thugs like this." They feature pictures of white candidates with word "Vote," and the month "November 2015," when the next election will be held.
"To use Trayvon Martin definitely offensive," resident Damon Smith told WXYZ. "That was a big issue in the African American community, still is with the Black Lives Matter, things like that going on."
Martin, an unarmed teen, was shot to death by George Zimmerman, who was on neighborhood watch patrol in Florida at the time. His death led to nationwide protests and marked the beginning of the Black Lives Matter movement.
A third flier comes with the slogan, "Let's get blacks out of Southfield in November." It contains pictures of three white candidates and two elected officials who are not even running for office.
READ MORE: Trayvon Martin's killer Zimmerman paints Confederate flag to praise Muslim-banning gun shop owner
Mayoral candidate Kenson Siver, whose picture is on the flier, insisted to WJBK that no one supported the message of hate and that he was saddened and insulted. He said the message went against the diversity that made the city of Southfield great.
Silver said he thought the fliers were likely an unfortunate product of dirty politics.
You can share this story on social media: