SC officer who fatally shot teen will not face state charges; dashcam footage released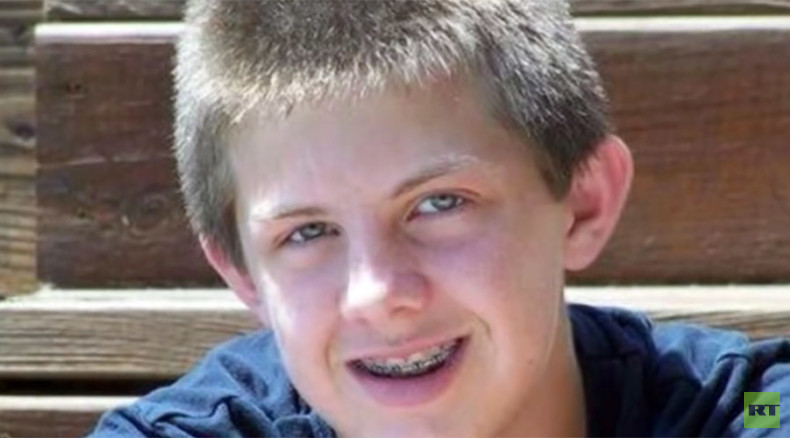 The South Carolina undercover police officer who fatally shot a 19-year-old during a low-level drug sting in July will not face state charges, a state prosecutor has announced. A federal investigation into the officer's actions is ongoing.
Tenth Circuit Solicitor Chrissy Adams said Tuesday that she has determined that Lieutenant Mark Tiller, a Seneca police officer working undercover at the time, acted justifiably when he shot Zachary Hammond in the parking lot of a Hardee's restaurant on July 26. A private autopsy ordered by Hammond's family showed he was shot in the side and back.

"I have completed my review of the South Carolina Law Enforcement Division's (SLED) investigation into the shooting death of Zachary Hammond on July 26, 2015 in Seneca, South Carolina. After careful consideration of the facts of the case, a thorough review of the State investigation, and an extensive review of all applicable law, I have determined that no criminal charges should be filed against Lt. Mark Tiller at the State level. I met with the Hammond family today and have informed them of this decision," Adams announced in a statement.
Adams would not offer further details about the findings, citing a separate probe by the US Department of Justice. In a letter to SLED, Adams said Tiller's decision to shoot Hammond was justified as a self-defense maneuver.

"What may seem 'reasonable' to any of us who are not in the heat of the moment or at risk of losing our life is a far cry from an officer actually being in a tense situation where he or she is force to make a split second decision while facing a criminal assailant," Adams wrote of the "difficult" case, according to The Post and Courier.
Hammond, who is white, and a female friend, Tori Morton, were in the Hardee's parking lot when Tiller's car, lights flashing, pulled up behind Hammond's car. Morton had mistakenly sent a text to a State Highway Patrol trooper arranging a drug deal, the Post and Courier reported.
As Tiller approached the vehicle, his gun drawn, Hammond tried to drive away. As shown in police dashcam footage released by SLED on Tuesday, Tiller shuffled toward the front of the car as Hammond tried to leave, eventually firing at Hammond as the teen's drove by. Morton was not injured in the incident, and was later charged with marijuana possession.

"When the full speed dash cam is viewed as a single piece of evidence standing alone, it does raise questions," Adams wrote.

"Our focus and our energy now need to be redirected toward training law enforcement officers in our State and ensuring training for situations such as this is offered on a recurring basis."
Tiller's attorneys have claimed that the officer feared for his life and only fired to protect himself. Yet the independent autopsy ordered by Hammond's family found that Hammond was shot in the side and back, which they say shows that the threat to Tiller was overstated.
An Oconee County autopsy found that Hammond was shot in the shoulder and the chest, according to Seneca police. That characterization was "incredibly misleading," according to Hammond family attorney Eric Bland, as Hammond was shot in the back of the shoulder and the side of the chest.
"We respectfully disagree [with Adams' decision]" Ronald Richter Jr., attorney for the Hammond family, said Tuesday, according to the Associated Press. "We had a very long meeting with the prosecutor this morning. We respect the work she did, but we completely disagree with the decision not to go forward."

Richter said Tuesday was the first time the Hammond family had seen Tiller's dashcam footage.

"That was the most important thing to finally get some answers to what happened to their son that night," Richter said. "It was very painful for them to watch that, but for the first time they have a better understanding of what took place.
Tiller's attorney, John Mussetto, said in a statement, obtained by Fox Carolina, that "Lt. Tiller agrees with the outcome of the investigation. As stated from day one, Lt. Tiller acted in self-defense and the decision today supports this position."
Tiller is on administrative leave. The Hammonds have filed a lawsuit against the officer and the Seneca Police Department. Lawyers for the city said they agreed with Adams' findings.
"The past three months have been extremely difficult for the residents of Seneca, its city employees and the 45 members of its police force," Seneca City Administrator Greg Dietterick said in a statement. "While the effects of outside agitators to tear apart our community lingers, we are thankful the investigation has come to an end and shows Lt. Tiller was acting in self-defense. The night of July 26 was a tragic event for this community and I personally will always grieve for the Hammond family."
Hammond's family ‒ which, in addition to the private autopsy, has spoken with Morton and viewed private surveillance of the incident ‒ has claimed that Tiller threatened to blow off Hammond's head, while Tiller's attorneys deny the accusation.

The family's lawsuit says that Hammond's body was left on the ground for 90 minutes after paramedics ruled he was dead. He was covered and stung by ants in that time period, while a second officer on the scene gave Hammond's body a high-five, they said. City lawyers have acknowledged that the second officer may have had inappropriate contact with the body, AP reported.
"He's only 19-years-old and the rest of our lives we are going to live with this," Paul Hammond told RT in early August. "We are never going to be able to celebrate anything again with Zack. And every celebration that does come up is will be tarnished because Zack is not with us."