Police chiefs call for universal background checks on all gun sales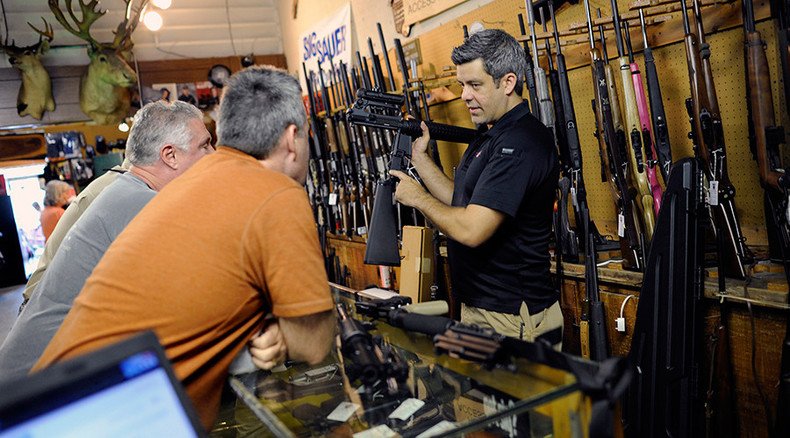 Background checks should be mandatory for all firearm purchases, and a stronger record-sharing system should be in place for law enforcement agencies to combat illegal gun sales and potentially risky buyers, top US police officials say.
The ease in which firearms can be acquired in the United States has contributed to the spike in the overall homicide rate in the US this year, top law enforcement officials said Monday at the International Association of Chiefs of Police conference in Chicago, Illinois.

The chiefs called for increased checks of sales involving private sellers or gun shows, both of which do not currently require background checks, Reuters reported. Cumulatively, these sales make up about 40 percent of all US gun purchases, they said. Licensed dealers, however, are required to follow current background check rules.

"This is a no-brainer, this is the simplest thing in the world," Chicago Police Superintendent Garry McCarthy said. "It troubles me all the time."

A coalition including nine national law enforcement groups is calling on Congress to boost the National Instant Criminal Background Check System that allows state and federal policing agencies to share records of those with criminal or mental histories that preclude individuals from acquiring firearms.

The coalition also wants more time than is currently allowed for the FBI to complete a background check before a gun sale is automatically allowed. Federal law says a gun can be legally acquired if a delay in such a check lasts for more than three days. The US government said that in 2014, more than 2,500 guns traded hands due to such delays, USA Today reported.
"The common denominator from Chicago to Charlotte is that guns are getting in the hands of the wrong people and lives are being erased, all because easy access to guns by people intent on doing harm to themselves or others," McCarthy said.

Over half (55 percent) of Americans who participated in a Gallup poll released this month said they preferred stricter gun regulations. Led by the powerful National Rifle Association, opponents to tighter laws say increased background checks could hinder their constitutional right to acquire firearms.
READ MORE: More crime-wary Americans turn to guns - poll

"We took on the tobacco industry years ago," McCarthy said. "We're not going to give up, it's the most obvious thing in the world what we have to do in this country. I have more faith in America."

In Washington, the Obama administration has raised alarm about rising homicide rates this year in major US cities, such as Chicago; Cleveland, Ohio; New Orleans, Louisiana; and the District of Columbia itself. Homicides in 35 large US cities are up 19 percent on average this year, and non-fatal shootings are up 62 percent, according to a police association survey.
In addition, mass shootings went up 56 percent in 2014 from the previous year, according to an FBI report released last month.

Speaking at the University of Chicago Law School this week, FBI Director James Comey offered one reason he believes explains the rise in violence: citizens filming police.
"In today's YouTube world, there are officers reluctant to get out of their cars and do the work that controls violent crime," he said. "Our officers are answering 911 calls, but avoiding the informal contact that keeps bad guys from standing around, especially with guns."

More than 800 people have been fatally shot by US police agencies this year, according to the Washington Post, which is tracking such incidents because of the US government's lack of a comprehensive count. In April, the Post reported that, in the past decade, only 54 cops have been charged for fatal shootings that occurred while they were on duty.
On Tuesday, President Barack Obama and Attorney General Loretta Lynch are scheduled to address the police chiefs conference in Chicago. The Obama administration has called for stricter gun laws and increased police cooperation with communities to both stem the rising tide of violence and to combat citizens' sour attitudes toward police amid the rash of fatal police shootings across the country.
You can share this story on social media: