1/2 of Americans see their government as threat – poll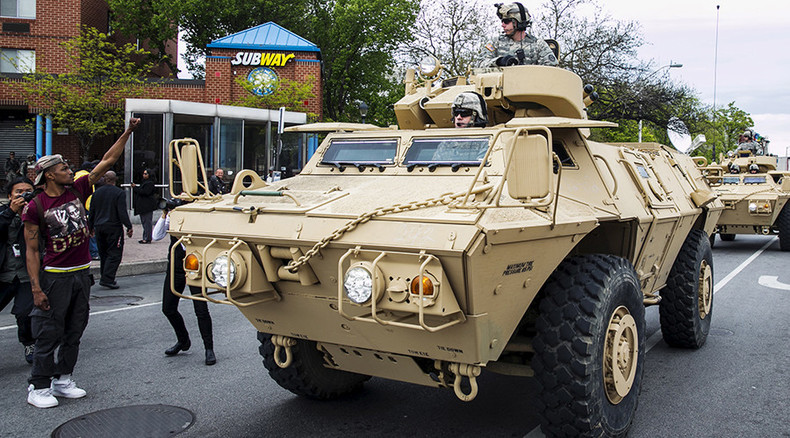 Almost half of the US population - 49 percent - regards the government as a threat to their lives and liberty, according to a new Gallup poll. Distrust in the federal government has been on the rise since 2006, when it stood at 46 percent.
The poll was conducted between September 9 and September 13, and included an open-ended question whether the US government was an "immediate threat to the rights and freedoms of ordinary citizens." Two in three Republicans and one in three Democrats answered yes, Gallup noted.
Among those agreeing, one in five was most concerned about the government becoming too big, too powerful, and having too many laws. Another 15 percent cited violations of freedoms and civil liberties, while 12 percent cited gun control efforts and threats to the 2nd amendment.
General complaints about the government included runaway spending, "socialism," involvement in things outside its purview, and violation of the separation of powers. Another common concern was that the government was showing favoritism towards the wealthy, or racial and ethnic minorities.
Respondents citing specific complaints were worried about freedom of speech and religion, the behavior of law enforcement agents, government surveillance of private citizens, the government's involvement in gay marriage issues, and healthcare, as well as immigration, taxation and business regulation.
Currently, Republicans are twice as likely to distrust the government as Democrats. The proportion was almost exactly the opposite a decade ago, during the George W. Bush administration, prompting Gallup researchers to point out that "these attitudes reflect more of a response to the president and disagreement with his policies than a fundamental feeling about the federal government in general."
However, Democrats who feel threatened by the government generally cite similar reasons as Republicans, Gallup researchers noted. Democrats were "somewhat less likely" to mention gun control and issues like marriage, taxes, immigration, government spending, or healthcare.
The poll also found that, while no single issue dominated, the three most pressing issues identified by respondents were dissatisfaction with the government, the economy in general, and immigration.
"The role and power of government remains a key issue of our time," Gallup researchers concluded.
READ MORE: Nearly 1/3 of Americans would back military coup against government – poll

Other recent polls have suggested that voters are increasingly concerned over gun control and illegal immigration. According to a CNN/ORC poll from September 8, 42 percent consider gun policy an "extremely important" concern in the presidential campaign, while 39 percent named illegal immigration as a key issue.
A September 9 poll conducted by UK researcher YouGov indicated that a third of the country would back a military coup, and that the public perceived the military as far more inclined to act in the public interest than Congress.
Gallup's new poll was based on a sample of 1,025 US adults over 18 years of age, from all 50 US states and the District of Columbia, with a 4 percent margin of error and a 95 percent confidence level.