Prosecutions of US police officers surge over civilian deaths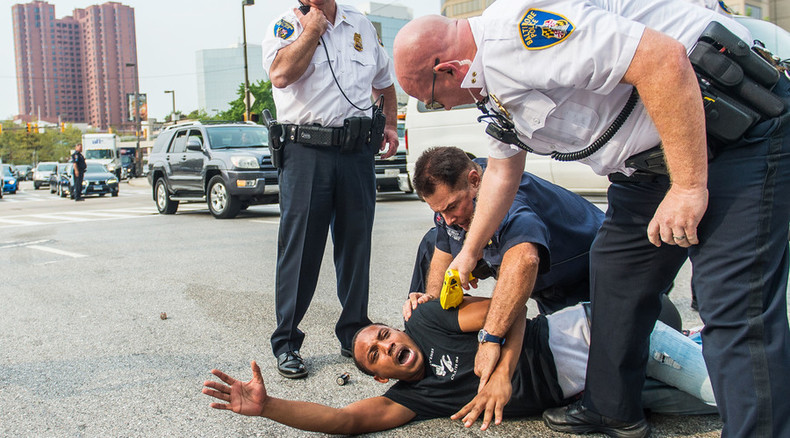 A dozen American police officers have been indicted this year, more than at any time over the past decade. The trend may be due to viral witness videos, which law enforcement say are sparking negative attitudes to the police and complicating their work.
On average, five officers have been charged with murder or manslaughter each year since 2005, Philip Stinson, an associate professor of criminology at Ohio's Bowling Green State University, told Reuters. He cautions against jumping to conclusions based on the surge in numbers.
"We can tell for one year, but is that just an anomaly or is it a trend?" Stinson said.
Having worked as a police officer and a lawyer before going into criminology, Stinson, 50, now heads a team of researchers at BGSU who sift through court records and media reports of cases where police have killed civilians. Funded by a grant from the US Department of Justice, the program is called "Police Integrity Lost."
Police in the US have come under increased scrutiny ever since the August 2014 shooting of Michael Brown, an African-American teenager in Ferguson, Missouri. Since Ferguson, killings by police have sparked mass protests across the US. Last week, thousands rallied in New York City for three days of protests against "police terror," reading off the names of relatives killed by police and picketing the notorious Rikers Island city jail.
Between a rising tide of organized protests and the widespread use of cell phone, dashboard and body cameras to record police interactions with the public, more officers are finding themselves having to answer to the courts for their use of deadly force.
Officer Michael Slager of North Charleston, South Carolina, was indicted for murder after a bystander filmed him shooting an unarmed black man in the back several times in April. Walter Scott had been running away from a traffic stop. Slager was dismissed from the force.
Officer Stephen Rankin of Portsmouth, Virginia, was charged with first-degree murder and the illegal use of a firearm after shooting black teenager William Chapman in a Walmart parking lot. Rankin was charged in September after a thorough investigation of the April shooting. There was no video of the incident, but the autopsy contradicted Rankin's account of events.
Bodycam footage was used to indict Ray Tensing, of the University of Cincinnati campus police, over the shooting of Samuel DuBose during a traffic stop in July. Tensing was charged with murdering the African-American motorist, who was pulled over for lacking a front license plate.
Since Stinson's count focuses on shootings, it does not include the six Baltimore PD officers charged with manslaughter in the death of Freddie Gray, who died in April after severing his spine in a police van. A riot that followed Gray's funeral brought Maryland National Guard onto the streets of Baltimore, and a week-long curfew was imposed in the city. The officers will be tried separately, a judge ruled in September.
Police complain that being in the public eye is making it more difficult for them to combat crime. Homicides in 35 major US cities have risen by 19 percent on average this year, and non-fatal shootings are up 62 percent, according to a police association survey.
Addressing the rising rates of violent crime, FBI director James Comey argued that the viral videos make officers more reluctant to engage in proactive policing.
"What may appear on YouTube to be police officers harassing people on the street is actually genuine crime deterrence," Comey told an audience of students, faculty and police at the University of Chicago Law School during a conference of the International Association of Chiefs of Police.
The US does not have an official database of civilian fatalities at the hands of police officers. Public databases have been created by California and Texas, as well as several local jurisdictions. According to the Washington Post, there have been 796 fatal police shootings this year; the Guardian has counted 927 deaths from all causes. Over at Killed by Police, another monitoring group, the counter stands at 975 as of October 25.
For police officers to be indicted special circumstances must be involved, such as a victim shot in the back, incriminating testimony from other officers, allegations of a cover-up, or a video recording of the incident, according to recent research by the Washington Post.
While the surge in prosecutions coincides with greater scrutiny of police shootings, expecting more officers to end up in jail over civilian deaths may be premature. Stinson's data shows that of the 47 officers charged from 2005 to 2014, only 11 have been convicted.