SC cop who shot unarmed black man 8 times, indicted for murder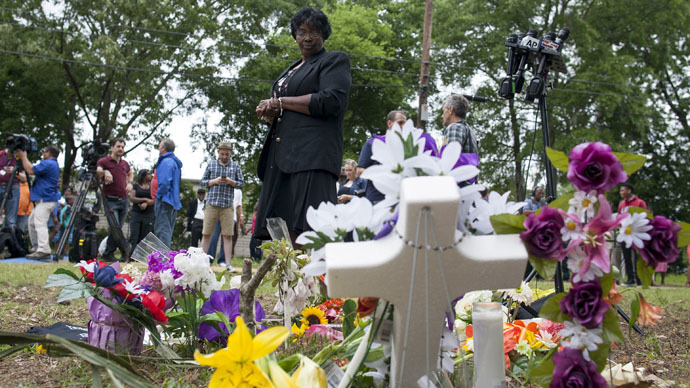 The former North Charleston police officer whose killing of an unarmed black man was captured on camera in April, has been indicted for murder by a grand jury. Michael Slager will stand trial for shooting Walter Scott eight times during a traffic stop.
State Solicitor Scarlett Wilson made the announcement on Monday morning, following the decision by the Charleston County grand jury to charge Slager with murder. Defined as an unlawful killing "with malice aforethought," the crime carries a sentence of 30 years to life in prison without parole. A trial date has not been set.
It's not much to look at, but this is the Michael Slager indictment for shooting Walter Scott as he was running away. pic.twitter.com/SSDEqcDAkg

— Matt Pearce (@mattdpearce) June 8, 2015
Patrolman Slager pulled Scott over for a broken taillight on April 4. According to Slager's initial statement, Scott had attempted to flee on foot. He fought with Slager over a police Taser and was shot in self-defense.
READ MORE: Dashcam footage from SC shooting shows Walter Scott running away from officer
However, a cell phone video captured by passerby Feidin Santana shows Slager firing eight rounds as Scott fled, then handcuffing Scott at the scene as he succumbed to injuries.
The video shows Scott slapping at Slager's hands, as several objects fall to the ground. The officer's attorney said that Scott had seized the Taser from Slager during the struggle.
Scott is then seen running away, while Slager draws his pistol and fires seven times in rapid succession. After a pause, he fires an eighth shot.
When Santana's video was made public, North Charleston police immediately dismissed Slager and placed him in protective custody. By April 8, city authorities had announced a charge of murder would be put before the grand jury.
"Without the video ... it would be difficult for us to ascertain exactly what did occur," North Charleston Mayor Keith Summey said at a news conference. "We want to thank the young person who came forward... because it has helped us resolve the issue."
READ MORE: 'I was sickened by what I saw' - N. Charleston police chief on video of fatal shooting
Scott, 50, was engaged to be married and left behind four children. He apparently owed child support payments, which some family members said might have been the reason he tried to escape. Scott had been arrested about 10 times, mostly for not paying child support or for failing to show up for court hearings, according to the Post and Courier.
Following the release of Santana's video, the police also published the dashboard camera footage from Slager's car, which showed Scott fleeing his vehicle.
Activists questioned whether Solicitor Wilson would prosecute the case fairly, and called on the authorities to transfer the case to another judicial circuit.
"The community doesn't trust that at the end of her prosecution, we're going to see what we perceive to be justice," Thomas Dixon, a member of a human rights coalition, told the Post and Courier in April. "She has not given us a history of prosecution in these cases that would earn our trust."
While this indictment is a step in the right direction, it is not the justice we need. Walter Scott being alive is that justice.

— Broderick Greer (@BroderickGreer) June 8, 2015
Wilson refused to step aside and said she was confident Slager would get a fair trial in Charleston County. This will be her first murder case against an officer, the local news station WCSC noted.
Speaking after the announcement, Scott's family said they were pleased with the indictment. The family's attorney, Chris Stewart, said that a civil lawsuit against Slager will be filed in the next few months.
Rodney Scott, brother of #walterscott, says family is happy with today's indictment. pic.twitter.com/bu8sS0HhKl

— Stacy Jacobson (@StacyJacobsonTV) June 8, 2015