'I was sickened by what I saw' - N. Charleston police chief on video of fatal shooting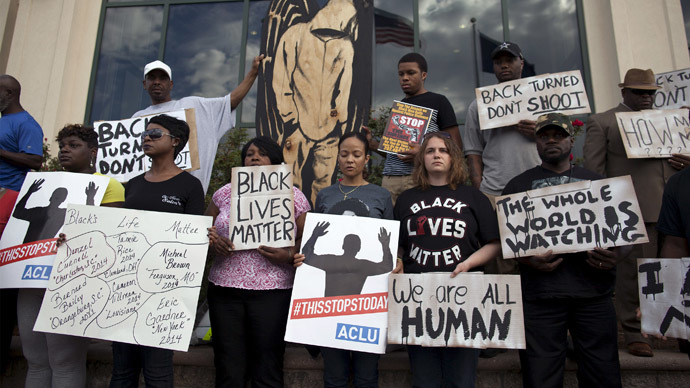 The chief of police for North Charleston, South Carolina, told reporters on Wednesday that he was "sickened" by video that surfaced this week of a local police officer fatally shooting an unarmed man eight times from behind.
"I have watched the video and I was sickened by what I saw," Chief Eddie Driggers said at a press conference on Wednesday. "And I have not watched it since."
A day earlier, the New York Times released amateur video footage showing a white police officer, 33-year-old Michael Slager, firing eight shots on Saturday afternoon at an unarmed African American suspect. The victim, 50-year-old Walter Scott, had reportedly fled on foot from the cop moments earlier during a routine traffic stop and then tried to take the officer's stun gun, according to police.
READ MORE: Murder charge for S. Carolina cop who shot black man 8 times in back (GRAPHIC VIDEO)
Footage captured on an eyewitness's cell phone show Slager shooting eight rounds as Scott fled, then handcuffing him at the scene as he succumbed to his injuries.
Slager, an expectant father, was charged with murder on Tuesday. Keith Summey, the mayor of North Charleston, said Wednesday that the officeris "terminated and gone" from the police force.
Driggers and Summey both fielded questions during that afternooon's press conference, but said that inquiries will be handled by the South Carolina Law Enforcement Division, or SLED, which has taken over the investigation.
Summey: The police chief is not allowed to answer questions about the investigation. #NorthCharlestonpic.twitter.com/uNf0Mngwhf

— Darci Strickland (@DarciWLTX) April 8, 2015
The brief press conference was interrupted repeatedly by protesters, including at one point by a chant of "No justice, no peace."
Summey told attendees at Wednesday's event that the North Charleston Police Department has received a grant to purchase over 100 body cameras and has since ordered them, as well as an additional 150 devices "so that every officer that's on the street in uniform will have a body camera."
You can share this story on social media: