Give blood or go to jail: Alabama judge accused of 'violation of bodily integrity'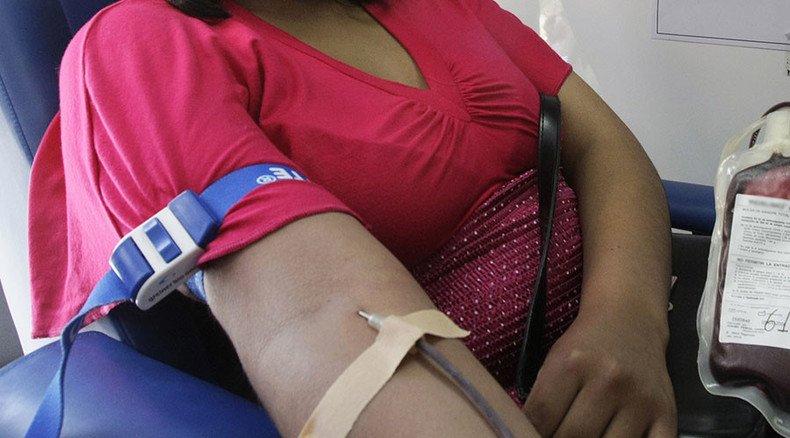 A rural Alabama judge is under fire for offering minor crime offenders the option of giving blood in lieu of paying monetary fines for their crimes, or going to jail – a choice the Southern Poverty Law Center has called unconstitutional.
The payment-due hearing at the Perry County Courthouse took place on September 17, when Judge Marvin Wiggins was to face hundreds of offenders owing fines for crimes ranging from drug possession to hunting after dark, according to the New York Times. The offenders were mailed notices to show up at the hearing, the Southern Poverty Law Center reported.
"Good morning, ladies and gentlemen," said Judge Wiggins, according to a recording of the hearing.
"For your consideration, there's a blood drive outside,"he said, according to audio obtained by the Southern Poverty Law Center. "If you don't have any money, go out there and give blood and bring in a receipt indicating you gave blood."
For anyone short of blood or money, Wiggins, an Alabama circuit judge since 1999, declared, "The sheriff has enough handcuffs."
Dozens of offenders took the offer, being told they would receive a $100 reduction in their fines and be allowed to go free that day. Witnesses told NYT that some were upset over the situation, while one older man passed out after having his blood taken at the mobile blood bank operated by LifeSouth, whose employees were aware of the arrangement with the court.
"He told us we got to go there and give some blood or we go to jail," said Traci Green, who was present at the hearing. He said he resented the choice he and others were offered.
The New York Times reported that many offenders at the hearing – some working off fines they had incurred a decade or more ago – felt forced to give blood, and were confused over whether they were being ordered to pay the entire amount they owed or a usual monthly payment, which many had been paying on time.
READ MORE: Ohio judge explains unorthodox, 'eye-for-an-eye' approach to sentencing (VIDEO)
Ultimately, no one was taken into custody. The county clerk said that had been the court's intention from the start, while a witness told NYT that this was only because everyone had chosen to give blood rather than go to jail.
The Southern Poverty Law Center, a nonprofit involved in public interest and civil rights litigation, filed an ethics complaint against Wiggins on Monday, saying his order was a "violation of bodily integrity." It added that the entire payment-due hearing, part of an increased statewide effort to pursue outstanding fines, was unconstitutional. Furthermore, the organization said no one who gave blood received the $100 credit they were promised, "they simply received a reprieve from being thrown in jail."
"This is a shocking disregard for not only judicial ethics but for the constitutional rights of defendants," said Sara Zampierin, a staff attorney for the SPLC.
Reached for comment, Judge Wiggins told NYT: "I cannot speak with you."
For its part, LifeSouth, which was operating the blood bank during the incident, said the employee who set up the blood drive with the court and knew of the payment arrangement had acted improperly. Once a complaint had been registered with LifeSouth, the blood was tested and, eventually, most was discarded.
"We appreciate the judge's attempt to support the community's blood needs," said Jill Evans, a vice president for LifeSouth. "However, LifeSouth prohibits blood donations from being considered as community service because it is potentially an unacceptable incentive for a volunteer donor."
READ MORE: Alabama trooper buys guy lunch, pic goes viral
Wiggins is no stranger to controversy. In 2009, the Alabama Court of the Judiciary ruled that Wiggins was guilty of violating state judicial ethics standards when he improperly intervened in a voter fraud case that involved his sister, who was a county clerk, as well as his brother-in-law and cousin.
Last year, Alabama Governor Robert Bentley expelled Wiggins from the Alabama State University Board of Trustees for conflicts of interest involving contracts with the school. The judge was accused of knowingly benefitting from $30,000 that Alabama State University paid to Wiggins' wife to direct a summer camp.
In September, SPLC sued Alexander City, Alabama for allegedly operating "a modern-day debtors' prison for at least a decade by arresting and jailing low-income people unable to pay their fines and court costs for traffic tickets and misdemeanors." SPLC said that 30 percent of the town's population lived below the poverty line, and that hundreds of them have been jailed or affected by the county system in just the past two years. The lawsuit alleged multiple violations of the US Constitution and Alabama law.