Alabama trooper buys guy lunch, pic goes viral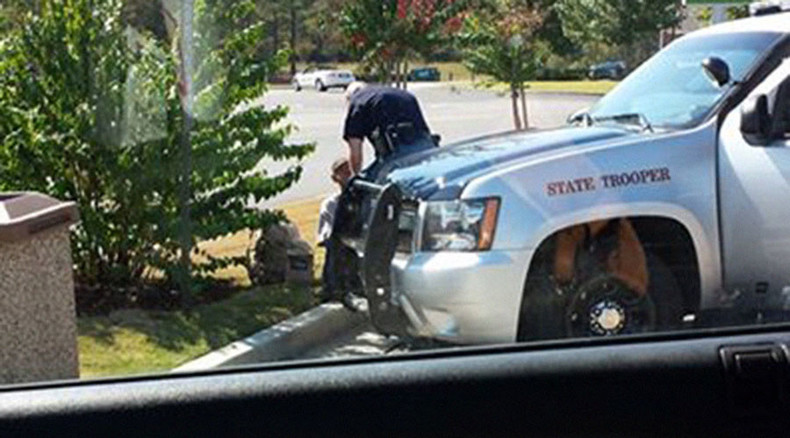 A kind gesture by an Alabama state trooper was recently photographed by an onlooker. Now that image has gone viral on Facebook as supporters of police suggest the trooper's actions are the true face of law enforcement agents in the US.
Trooper Justin O'Neal picked up a disabled man who is believed to be homeless as he was walking along an interstate highway, WIAT reported. The man said he was traveling from Tuscaloosa, Alabama to North Carolina to visit loved ones. The man said he had not eaten in three days and had no money, so O'Neal took him to a McDonald's in Bessemer, Alabama.
There, O'Neal was spotted by Jenny Reed in the drive-through line. She saw the cruiser pull into a parking where O'Neal gave the man the food.

"The state trooper was carrying the McDonald's bag and the drink. He helped him to a curb where he sat, and he handed him his food," Reed told WIAT.
The man was appreciative of the gift.

"He was very happy. He really wasn't looking at me. He was looking at that bag of McDonalds," said O'Neal.
READ MORE: From saving skunk to delivering baby: Cops' heartwarming actions that went viral

Reed took a photo of the encounter, thanking O'Neal for the act in the process.

"I saw what you just did and that was amazing. God bless you. You are truly a hero and that was so inspiring," she said to O'Neal, according to WBRC.

She later posted the photo on Facebook, and in a few days, the photo was shared, liked and commented on thousands of times.

"I have always had respect for public servants but he just raised the bar," she wrote of O'Neal.
She said she was glad more people will be able to see a kind act by a police officer. For his part, O'Neal said this kind of gesture is normal for law enforcement.

"Law enforcement, police officers, all across the country, do this on a daily basis," he said. "Law enforcement's just a calling. You're called to do the job, and it's in my blood."
READ MORE: Dunkin' employee writes #blacklivesmatter on cop's coffee, police are not amused

Law enforcement officers across the United States have received criticism of late for numerous instances – often caught on camera – of heavy-handed tactics, if not outright thuggish brutality, that is rarely punished.
Scrutiny over police racial profiling, wanton violence and harassment of the poor, minorities and the powerless reached a new level following the fatal shooting of unarmed black teenager Michael Brown in Ferguson, Missouri by a white officer in August 2014.

Thus far in 2015, 782 people have been fatally shot by police across the US, according to the Washington Post's comprehensive tally of the incidents.