Ohio judge explains unorthodox, 'eye-for-an-eye' approach to sentencing (VIDEO)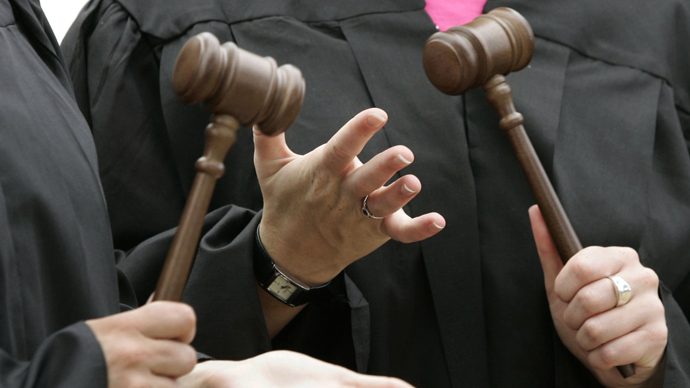 Walk 30 miles for skipping cab fare. Sit in a silent forest for a noise disturbance. These are some of the unusual punishments given by a municipal judge in Ohio who says alternative sentencing for low-level crimes can deter repeat offenders.
Painesville Municipal Court Judge Michael Cicconetti told RT that his creative sentencing began when a "well-healed" woman was in his courtroom for driving past a school bus that had activated its flashing traffic lights that signal a child is entering or exiting the bus. He said a fine was likely not going to teach the defendant a lesson, so he offered her a choice. She could have her driver's license suspended for 90 days or agree to ride a shift on a school bus with children so she could see the potential danger of her actions.
"I had her come back to me a report after," he said. "And she said, 'You know what judge, that was a valuable lesson.' She said, 'I didn't realize the dangers of that.' So that was baby steps. I got a little braver as time went on and kind of expanded into some of these more wild sentences."
Cicconetti pointed out that he always gives the defendant a choice. He does not force an unusual sentence on them.
"It's either jail time or you do the suggested sentence that I gave you," he said. "And everyone of them, on their own, has chosen to do the alternative sentence."
He added that none of these cases regard major crimes or serial offenders.
"We also have to remember that these aren't serious felony cases. Most of these charges are just stupid acts, and they're misdemeanors."
His aim is to teach a lesson, he said. He usually targets those who have not been charged with a crime in the past and those who he believes will take something constructive from his offbeat sentencing. One man charged with driving while intoxicated was sentenced, in part, to view a victim of an automobile accident. "It actually scared the hell out of him," the judge said.
In another example, for a woman convicted of using pepper spray on a fast-food employee, Cicconetti gave her the option of allowing her victim to spray her with the substance. She agreed, though Cicconetti had arranged for the spray to be a simple saline solution, not pepper spray. He believes that she learned a lesson from the punishment.
"It scared her," he said. "It was sort of like being the butt-end of a practical joke. So it was really more embarrassing than anything. But sometimes that's what's needed. My criteria is that it can't be a serious crime where someone is hurt or it involves a lot of money. It has to be someone who is – usually – a first offender. Someone that's usually youthful or more impressionable. And the most important point: They have to show remorse for their offense, before I will even consider it."
He said he would match his success record in avoiding criminal recidivism against any other judge. If that is true, might alternative sentencing – rather than time in prison – work for higher-level offenses?
"I don't know if we could reach that far into serious crimes," he said. "And they couldn't be of the humorous angle, because you're really dealing with people that were injured or possibly their entire bankroll has vanished because of somebody. So you almost have to confine it to the misdemeanor offenses, I really think so. I'm not sure it would work in the higher-elevated offenses."