NFL star to honor mother, pay for 53 mammograms after league refuses to extend 'Pinktober'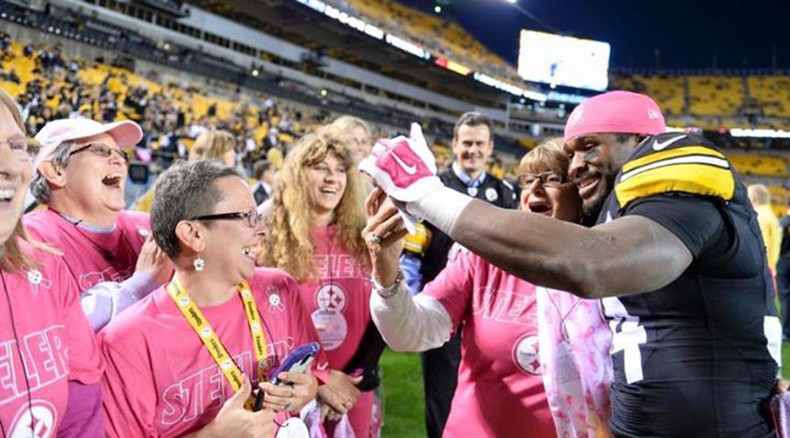 The National Football League's DeAngelo Williams has become one of pro football's best ambassadors for breast cancer awareness. However, when he asked to wear 'Pinktober' uniform accessories beyond October, the NFL said no. Instead, he'll fund mammograms.
Williams, a running back for the Pittsburgh Steelers, lost his mother, Sandra Hill, to breast cancer last year. Four of his aunts died of the same disease. He ‒ and his mother, before she passed ‒ became a spokesman for the NFL's annual Breast Cancer Awareness Month campaign.
"Breast cancer, whether I like it or not, is part of my family's story. That's why I am so passionate about raising awareness, because I have seen firsthand how it can impact others," Williams wrote for Sports Illustrated last May, two weeks after Hill died.
Every October, the NFL, the NFL Players' Association and the American Cancer Society join together to promote "A Crucial Catch" during Breast Cancer Awareness Month. Throughout so-called "Pinktober," players, coaches and referees wear pink, branded apparel to raise awareness about the need for cancer screenings. Much of the game-worn gear is auctioned off, along with special game balls and pink coins, with the proceeds benefitting an ACS grant program to increase access to breast cancer education and screening resources, the league says on its website.
Williams knows just how valuable the campaign has been in the past. Along with the NFL's official gear, he has dyed his dreadlocks and painted his toenails pink. He also hosts fundraising events throughout the year.
"One time, a lady came up to me and said she was going to get examined just because she saw me wearing pink cleats during a game," he wrote in his SI piece. "I walked away thinking, 'Wow, pink is really so much more than just a color. It's a lifesaver. It's awareness. If we reach one, we reach millions. If we reach millions, we're doing our job and getting closer to finding a cure'."
Determined to reach more women outside of Pinktober, he asked the NFL ‒ sometimes called the "No Fun League" for its penchant for clamping down on players' personal expression ‒ if he could wear some of its official pink accessories throughout the season, ESPN's Lisa Salters reported on Monday Night Football.
But Troy Vincent, the NFL's vice president of football operations, told Williams that any pink outside of October would be in violation of the league's uniform policy, which states that any time a player is visible on game day, he is "prohibited from wearing, displaying, or otherwise conveying personal messages either in writing or illustration, unless such message has been approved in advance by the League office." It goes on to say that the league will not grant permission for items that relate to "non-football events, causes or campaigns, or charitable causes or campaigns."
In fact, Williams' teammate, Cam Heyward, was fined for wearing eye black that honored his father during a game last Sunday, Heyward tweeted. The Steelers' defensive end lost his father, former NFL fullback Craig "Ironhead" Heyward, to cancer in 2006.
The league has previously been chastised by players, alumni and fans for decisions to penalize players for a wide variety of sins, including flagging Kansas City Chiefs safety Husain Abdullah, a Muslim, for kneeling in prayer after scoring a touchdown on an interception; the NFL later apologized. Along with wearing religious messages and those honoring loved ones, players have also protested the deaths of Michael Brown and Eric Garner at the hands of police.
Critics complain that the NFL is tone-deaf over its decision to block Williams from promoting its "pet cause" outside the delineated month of Pinktober. Jen Hartwig, who writes the Real Women Love Sports blog, told RT the incident is "hypocrisy at its worst" and that it "paints the NFL as being very disingenuous."
She noted that the NFL had no problem trotting out Hill, as little as seven months before her death, but showed no support to Williams after her death.
At the time he was a player for the Carolina Panthers, yet the team didn't send anyone to Hill's funeral, Williams told WBTV in February after he was released. He was a Panther for nine seasons.
"The owner didn't reach out. He didn't say anything. Never talked to me. Nobody upstairs ever talked to me," he said. "I was upset with Carolina, because the last five or six years during October, [my mom] was celebrated, but then when she was no longer here ‒ let's move on. [I was] very disappointed. And, somewhat angry."
Hartwig blasted the NFL for ignoring Hill's death and the added blow of denying his request to wear pink in her honor. The league's decision to allow players to wear pink cleats in 2009 was inspired by Williams' mom, according to SI.
"I have a hard time believing anyone would have a problem with DeAngelo Williams wearing a little bit of pink all season to honor the five women in his life who have died of breast cancer," Hartwig told RT. "The one time they've been asked to really show their support – by letting a man who lost four aunts and his mother to the deadly disease honor them by wearing pink all season, they showed their true colors – which are decidedly not pink – and said no."
"To me, it shows that the NFL is using October as a ploy to appease female fans, more than as a way to support breast cancer awareness," she continued. "But my issue really is with the whole mockery of the Pinktober celebration by the NFL in the first place, which feels not only insincere but almost patronizing."
Williams will continue wear his pink-tinged dreads for the rest of the season, and will purchase 53 mammograms in honor of Hill at a hospital in Charlotte, North Carolina and at a hospital in Pittsburgh, Pennsylvania, ESPN reported. Hill was 53 when she died.
"It's not just about October for me; it's not just a month, it's a lifestyle. It's about getting women to recognize to get tested," he said on Monday.