​NFL players display solidarity with #ICantBreathe protests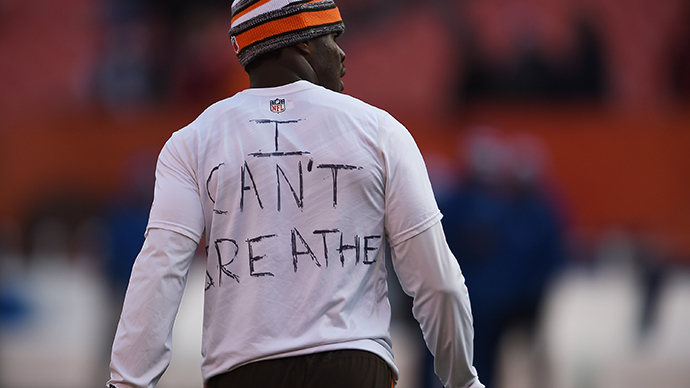 Several NFL players eulogized Eric Garner's last words, "I can't breathe," in their own fashion, drawing further attention to the recent spate of black men who have died at the hands of white police officers.
During pregame practice against the Indianapolis Colts, Cleveland Browns cornerback Johnson Bademosi protested the death of Eric Garner, wearing a shirt that had scrawled on the back of it, "I can't breathe."

Davin Joseph, a St Louis Rams guard, wrote the phrase on his cleats and tweeted it, along with the words: "RIP Eric Garner."

Detroit Lions running back Reggie Bush sported a shirt bearing the phrase, "I can't breathe," which has become a rallying catchphrase for thousands of demonstrators protesting in cities across the country.
READ MORE:Cops demand Rams players who showed solidarity with Ferguson to be punished
In the NBL, LeBron James, star player for the Cleveland Cavaliers, hinted he may wear a shirt with the rallying phrase in a Monday game against the Brooklyn Nets, where the Duke and Duchess of Cambridge are expected to be in attendance.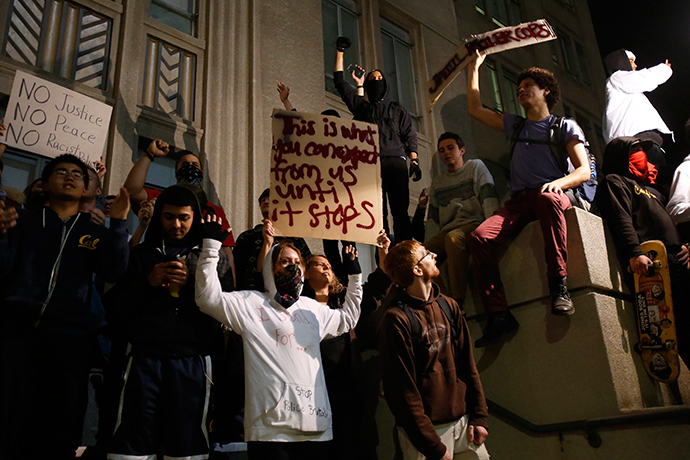 "I'm looking for one," James said, as quoted by AFP.

On July 17, 2014, Eric Garner, 44, died on Staten Island, New York, after a white police officer put him in a choke hold, a technique prohibited by the New York City Police Department. After repeating about a dozen times, "I can't breathe," Garner, who had asthma, reportedly suffered a heart attack and died.
Garner left behind a family of six children.

The nationwide protests are focused not only on excessive police powers, aggravated by local police departments receiving military hardware leftover from foreign battlefields, but from the disturbing incidence of black men being killed by white police officers, who are not suffering legal consequences for their actions.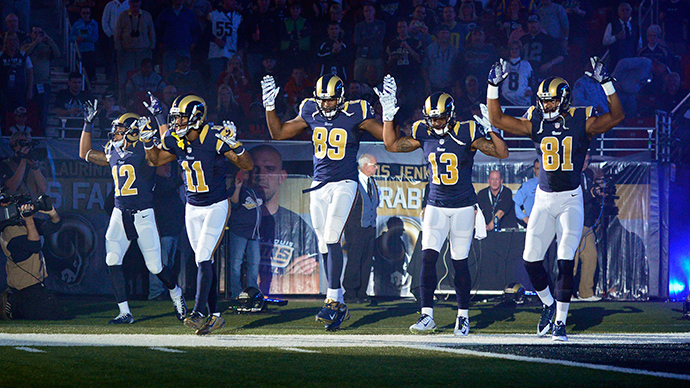 READ MORE:Rubber bullets, tear gas in Berkeley as police disperse #EricGarner, #Ferguson rally
The NFL show of support for Garner comes just one week after five players from the St. Louis Rams entered the stadium before a game with the "hands up, don't shoot" gesture displayed by demonstrators protesting the shooting death of unarmed black teenager Michael Brown by white police officer Darren Wilson.

The St. Louis Police Officers' Association said the five NFL players who made the gesture should be "disciplined" over the act, which the union called "tasteless, offensive and inflammatory" to officers around the country.

A decision by a grand jury not to indict Wilson in the killing triggered days of occasionally violent protests in Ferguson and elsewhere in the country.
You can share this story on social media: