NFL penalizes player for kneeling in Muslim prayer after scoring touchdown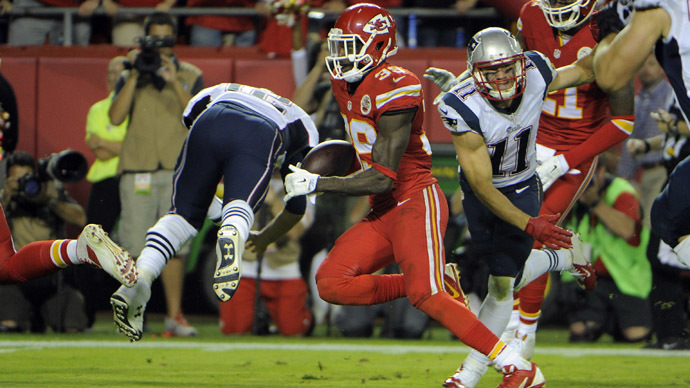 ​Husain Abdullah, of the NFL's Kansas City Chiefs, was penalized during a game Monday for dropping to his knees in Muslim prayer after scoring. Fans on social media pointed out that Christian players often pray in similar fashion and are not penalized.
Abdullah, a safety for the Chiefs, scored a touchdown after intercepting a pass from the New England Patriots' Tom Brady during the fourth quarter of Kansas City's 41-14 victory. Rushing into the end zone for the score, he slid on his knees into a prayer position, bowing his head to the ground in deference to Mecca.
The officiating crew for the game penalized him for "falling to the ground on the knees." The National Football League has an 'excessive celebration' rule, and players are "prohibited from engaging in any celebrations while on the ground." The 15-yard penalty is assessed on the ensuing kickoff.
Yet in every NFL game, Christian players honor or pay tribute in some manner to their religious beliefs, sometimes while kneeling on the ground. While prayer is not addressed in the NFL's celebration guidelines, it is more or less an unspoken rule that religious expression is permissible and rarely, if ever, penalized.
In fact, one former NFL player, Tim Tebow, was so renowned for his prayer routines that it became a verb, 'Tebowing,' synonymous with kneeling to pray in Tebow's signature style.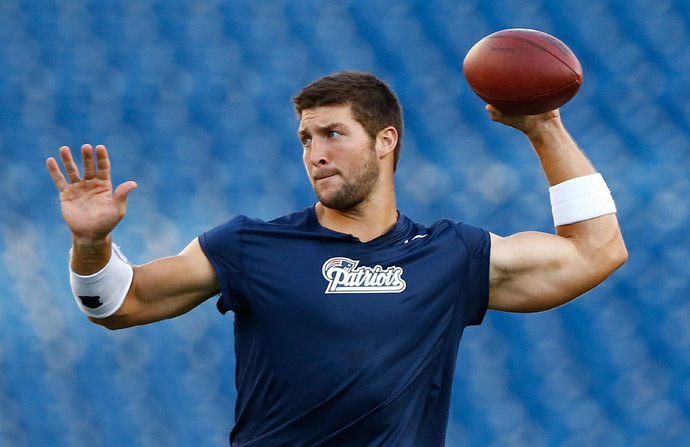 Abdullah, who missed the entire 2012 season to make a pilgrimage to Mecca, dodged controversy after the game, telling AM 610 sports radio he thought he was penalized for sliding on the ground.
"I got a little to excited,"Abdullah said, adding that he had planned to "prostrate before God in the end zone" if he intercepted a pass and then scored during the game.
"I think it was because of the slide," he said. The referee did not tell him exactly why he was penalized, according to Abdullah, though Kansas City coach Andy Reid said after the game that the slide was the reason for the penalty.
While Abdullah was calm about the infraction, fans immediately took to social media to wonder why a Muslim prayer was discouraged while Christian prayer is allowed.
Brandon Marshall gets on knees & raises hands to Jesus after TD..No penalty..Husain Abdullah bows to Mecca..15 yards! pic.twitter.com/6G5sDfaWO0

— Arsalan Iftikhar™ (@TheMuslimGuy) September 30, 2014
Tim Tebow can do this but a Husain Abdullah cannot celebrate in his own way? #NFLpic.twitter.com/ya1hB1hE0f

— Guy (@Payitforward87) September 30, 2014
Husain Abdullah was penalized for... praying? Fox News would flip out if he was Christian http://t.co/BiLakhjsjB via @HelloSaraJo

— Remi Kanazi (@Remroum) September 30, 2014
"Husain Abdullah" was trending on Twitter as of 11 a.m. EST on Tuesday morning.
For its part, the NFL said Tuesday morning that Abdullah should not have received a penalty.
NFL spokesman Michael Signora told AP that ''the officiating mechanic in this situation is not to flag a player who goes to the ground as part of religious expression, and as a result, there should have been no penalty on the play.''
The Council on American-Islamic Relations issued a statement on Tuesday, calling for the NFL to clarify its rules.
''To prevent the appearance of a double standard, we urge league officials to clarify the policy on prayer and recognize that the official made a mistake in this case,'' CAIR spokesman Ibrahim Hooper said.
Abdullah said that he doesn't think Reid, his coach, will punish him further for the infraction.
''I'm pretty sure he understands who I am, what my faith is,'' he said. ''And again, I think the prostration is all right. It's the slide. Come to a full stop, get down, make the prostration, get up and get out.''
You can share this story on social media: