Gagging grizzly: Man escapes bear attack by jamming his arm down its throat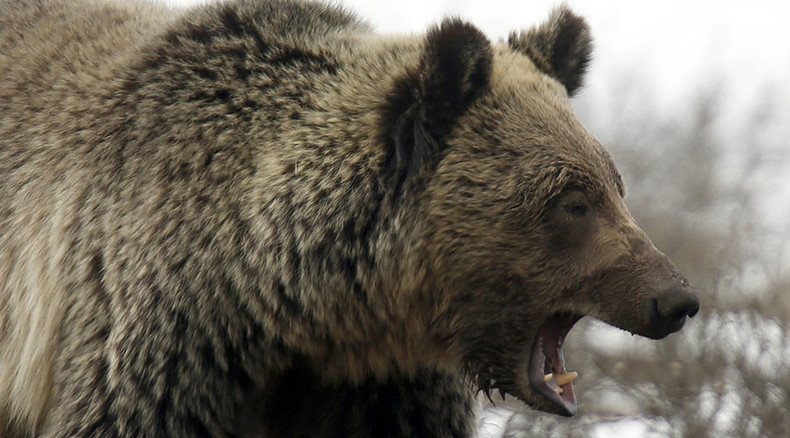 A Montana man came face-to-face with a 350-400 pound male grizzly bear and lived to tell the tale, using a tip he had received from his grandmother years before to save his life.
Chase Dellwo, 26, was hunting elk with his brother Shane on Saturday amid snow, rain, and 30 to 40 mile per hour winds. The brothers spotted a herd of elk in the distance. Chase walked along a creek bed in an effort to drive the herd up a ridge and into Shane's path.
Walking at brisk pace, he didn't realize he was near the grizzly until the pair were but three feet apart. The bear had been sleeping, Chase said, and was likely taken off guard.

"I had an arrow nocked, and I put my bow up in front of me and took two or three steps back," Chase told the Great Falls Tribune. "There wasn't any time to draw my bow back."

The bear knocked Chase down and bit the back and top of his head.

"He let go, but he was still on top of me roaring the loudest roar I have ever heard," Dellwo said.
READ MORE: Super pup: Small dog attacks two intruding bears & chases them away (VIDEO)

After briefly turning away, the bear returned and bit Chase's leg. The bear "gave it a pretty good shake and threw me a ways," he said.

Despite living a moment when panic could have easily paralyzed him, Chase remembered a tip supplied by his grandmother years ago.

"I remembered an article that my grandmother gave me a long time ago that said large animals have bad gag reflexes," Dellwo said. "So I shoved my right arm down his throat."

The tactic worked, and the bear left. Dellwo eventually walked to his brother, dazed and bloodied.

"I forced myself to calm down and not to panic," he said. "I was lost. I cleared the blood out of my eyes. If I had allowed myself to panic I would still be in there."
READ MORE: Alaska bear encounter: "Thanks for not eating my kayak... hey, stop, it's not even food!"

Chase found Shane, and the pair rushed to Benefis Teton Medical Center. Chase needed a couple hundred stitches and staples in his head and some stitches to his face. He also survived the attack with a bruised and swollen eye and deep puncture wounds on his right leg.

He said he has no hard feelings for the grizzly.

"I want everyone to know that it wasn't the bear's fault, he was as scared as I was," Dellwo said Sunday.
You can share this story on social media: