Icing and a nap: Bear enters Colorado pizzeria for sugar fix (PHOTOS, VIDEO)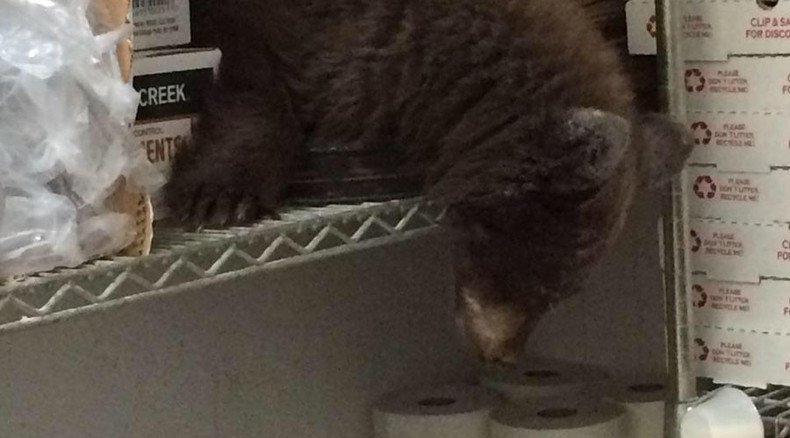 A malnourished bear cub found its way into a pizzeria in Colorado Springs, Colorado, to snack on cinnamon-bread icing before opting to nap on a storage shelf. Wildlife agents were able to capture the bear and enter it into a rehabilitation facility.
The bear was spotted Monday in downtown Colorado Springs, near Palmer High School. School officials were notified of the bear by an unidentified caller, nearly prompting a school lockdown, according to the Colorado Springs Gazeette.
Blanca Caro, a Colorado Springs police school resource officer at the school, then investigated the bear's whereabouts. She was eventually told by an employee of Louie's Pizza that the bear had entered the restaurant.
"I started heading west on Boulder (Street) and that's when I got flagged down by an employee at Louie's Pizza," she told the Gazette.

The Louie's employee said that the bear had walked through an open door and entered the pizzeria's prep room, where it ate icing used in the restaurant's cinnamon bread before resting on a storage rack.

"It's the most interesting thing, I was just driving down the road and one of my employees called me and said we have a bear in the backroom," Louie Sciarrotta, owner of Louie's Pizza, told KKTV. "They said, no really we have a bear in the backroom. So I was thinking it was a teddy bear, you know, a present, whatever and they sent me a picture and it was a live bear."
Sciarrota added that "she was sitting up on a shelf eating the icing, licking it, and made herself at home. She was comfortable."

Colorado Parks & Wildlife arrived to find the cub asleep on the shelf.
"He (the Parks & Wildlife officer) went back to that corner, woke her up and then tranquilized her," Caro said, who added that no other bears were found in the area.
Matt Robbins, a spokesman for Parks & Wildlife, said the cub appeared to be under-fed and had an open wound on one of its paws. The wound was treated and the bear was taken to a rehab facility, he said.

"If we get that weight up and the wound heals, it will go back into the wild," Robbins said.

Bear sightings have spiked lately in Colorado Springs ahead of the bears' hibernation period. In a 24-hour span, three bears were seen in the town, KKTV reported. Wildlife officials said that a late freeze in spring curbed bears' food supply somewhat, causing them to seek food in trash cans and other areas near human activity.

"Having the number of bears we have here and the duration that bears want to stay in one neighborhood is for one reason and one reason only -- That's because of trash, that availability of food source," Steve Cooley, Wildlife Officer for Northwestern El Paso County, told KKTV.
You can share this story on social media: