Super pup: Small dog attacks two intruding bears & chases them away (VIDEO)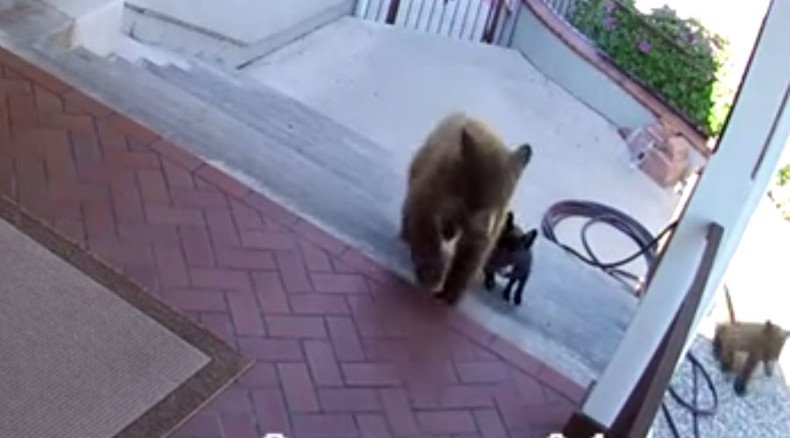 Check out this brave little French bulldog as she rushes down the porch to chase away two medium-sized bears that have intruded on the dog owner's property.
Jewels' owner, David Hernandez, installed a surveillance camera on his porch to keep an eye on bears, which have are in the habit of climbing over the fence and damaging his Californian property.
HOLY MUTTSVILLE ALERT!!! GRIZZILLY BEARS RUN FO YER LIFE!!! Small dog chases off two bears in California - video | US news | The...

— Kangen Alive (@kangenalive) October 5, 2015

The footage shows the two intruders going about their routine in broad daylight, when out of the blue a ferocious little pup rushes off the porch, launching herself at the two animals five times her size.
READ MORE Aww-inspiring: Dog watched over trapped canine pal for a week until help came
One of the bears tries fighting back, but then decides against it and the two flee in different directions.
Jewels barked and chased the bears around until both of them finally climbed over the fence and ran away.
READ MORE Pregnant dog rescued after being buried alive for 2 days (VIDEO)

The redoubtable pooch reportedly received a pampering bath and some snacks afterwards.
You can share this story on social media: