Pregnant dog rescued after being buried alive for 2 days (VIDEO)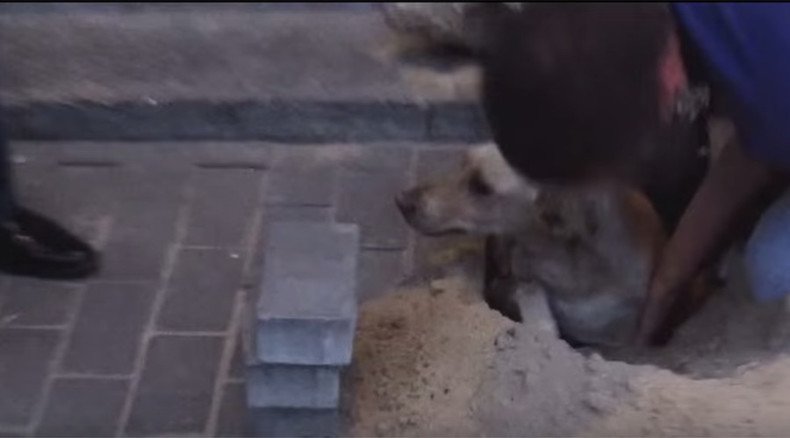 Local residents have rescued a pregnant dog entombed alive under heavy stone blocks by negligent workers repairing a pavement in the southwestern Russian city of Voronezh. Deprived of food and water for two days, the animal has lost her unborn puppies.
Several weeks ago a pavement collapsed in an apartment block in Voronezh, leaving a hole in the ground. The pregnant dog, nicknamed Belka, somehow managed to crawl beneath the rubble. The builders decided not to rescue the animal and simply sealed the crater, trapping it underground, Bloknot-Voronezh reported.
The house's residents, a married couple, started hearing barking, coming from beneath their porch steps. Aleksandra and her husband Vadim were away for two days and recalled that just before they left, local workers started fixing the pit.

"We were shocked," Aleksandra told Bloknot-Voronezh. We rushed to ask the neighbors what had happened. They only told us that the workers had fixed the hole...

I don't believe that they just failed to notice the dog. It's not a hamster. The workers probably just didn't want to make an effort and retrieve the animal. The neighbors also proved to be indifferent. They understood the poor creature got trapped. But who wants to waste their time, getting their hands dirty? No one cared."
READ MORE: No mercy: Video of weeping homeless man losing dog to activists sparks online outrage

After local housing authorities refused to help, Vadim dismantled the tiles, dug into the ground and carefully rescued the pregnant dog on his own. Because of the two dramatic days passed without food and water, Belka lost her puppies. The dog herself has been passed on to a shelter and is reportedly recovering.
You can share this story on social media: