No mercy: Video of weeping homeless man losing dog to activists sparks online outrage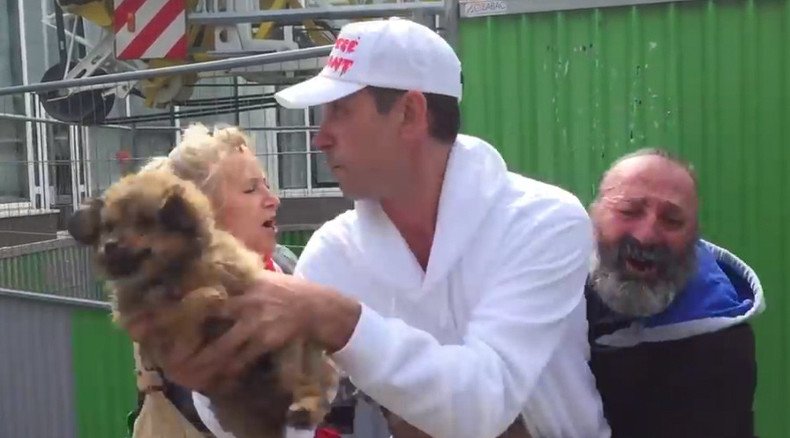 The French animal rights group, Cause Animal Nord, has come under fire after a video emerged of the activists taking away a puppy from a crying homeless man in central Paris.
The video shows the man fighting for his dog, but eventually losing out as three members of the group, including the organization's president, seized the puppy and ran away. The homeless man was left in tears.
The cruel act has been condemned by the media and internet users. A number took to social networks to express their disgust, while others left highly critical messages on the organization's Facebook page.
Speaking to France3, the President of the Lille-Roubaix Animal Protection League Gregory Malfait, said, "It is absolutely illegal and this time it makes me mad," while also mentioning that "The homeless are extremely attached to their animals."
An online petition calling for an investigation to be opened against Cause Animal Nord has almost reached its goal of acquiring 150,000 signatures, with over 147,000 lending their support by Friday.
Cause Animal Nord has been in the spotlight for all the wrong reasons in the past. It is perceived to be extremist and its president, Antony Blandhard has previously been accused of racism, when he published an open letter to the French President, saying that too much money was being spent on immigrants and in particular on housing for Roma peoples living in France.
In a message left on the organization's Facebook page, Cause Animal Nord called the homeless man, "a Roma." This followed the publication of a police report, after the man had filed a complaint against the group for stealing his dog, which was stated to be a Pekinese puppy.
"So a Roma, but whatever. In any case the dog is not a Pekinese… Or were there other dogs on the sidewalk?"
Under French law, animal protection associations are not allowed to take away animals without the owner's consent if they don't have an order, regardless of whether or not the animal has a passport.
Cause Animal Nord have defended their actions by saying that the dog was drugged but the organization failed to provide any medical evidence. The assumption was made by Mr Blanchard who said the dog's pupils were dilated when he took him from the owner.
On Wednesday, the group posted the puppy's photo on their Facebook page saying it was up for adoption for €195 ($217). They later removed the image.
You can share this story on social media: