Alaska bear encounter: "Thanks for not eating my kayak... hey, stop, it's not even food!"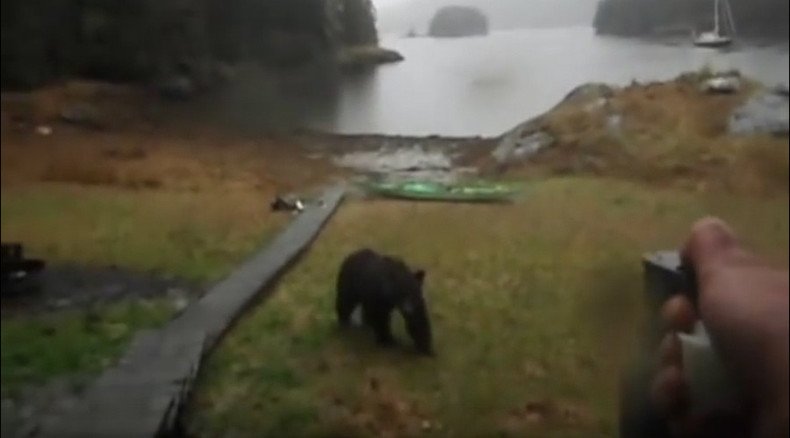 A black bear approached a woman, who was traveling solo on a kayak in Alaska. When she scared him away with a pepper spray and thanked it for not taking interest in the boat, he immediately started gnawing on the thing, ignoring all pleas.
The footage of the encounter was posted by the woman herself, Mary Maley, who said she was making a 107-mile journey from Ketchikan to Petersburg. The bear popped out of the woods near a public-use cabin in Berg Bay in the southeast of the state.
At the beginning of the video Maley is heard saying to the bear, "Thank you for leaving my kayak alone!" as she points a pepper spray can at the animal.
"I'm going to pepper spray you in the face, that's what I'm gonna do to you," she says.
The bear retreats from the smell of the irritant and immediately does what Maley feared – he takes an interest in the boat. For the next two minutes the traveler yells at the animal, tries to bargain with it and laments the situation.
"Stop breaking my kayak, please. Please stop!" she pleads at one point "Gosh darn it. Oh, why are you doing that?"
"It's the end of September, why are you here? You're supposed to be asleep! Why are you here?" she asks, but the animal ignores her.
"It's not – it's not even food. It doesn't even taste good! It's just plastic! Bear! Please stop. Please stop, bear!"
Maley wrote on YouTube that the video starts 5 minutes after the bear showed up and that the entire encounter lasted about 20 minutes. She says she had to swim to a sailing vessel that was anchored in the bay to ask for a ride to Wrangell, where she could try to repair her kayak.
You can share this story on social media: