Philadelphia community college on lockdown over reports of gunman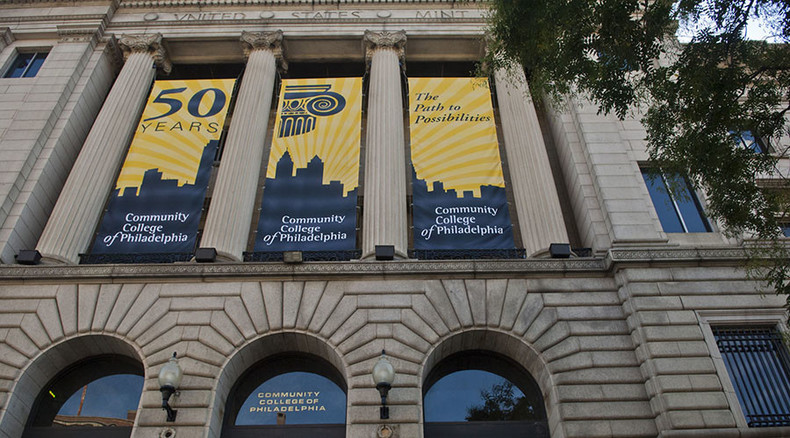 Students and faculty at Community College of Philadelphia were find shelter over reports of a gunman on campus. The suspected gunman is in custody.
The reports surfaced on Tuesday around 10 a.m. EDT inside the school's Bonnell Building. Authorities said that a male in the building said that he was threatened by another male with a gun, according to a local ABC affiliate.
READ MORE: 'Drops of blood:' Students describe horrific mass shooting at UCC in Oregon
There were no shots fired or injuries.
Masterman High School, located across the street, was also locked down as a precaution.
@CCPedu lockdown is NOT an active shooter situation. @PhillyPolice are clearing the area & looking for suspect regarding a personal dispute

— Philadelphia Police (@PhillyPolice) October 6, 2015
Police swept the whole area as a precaution, but said it was not an active shooter situation.
The two men involved in the dispute are said to have a history with each other, according to Philadelphia Police Commissioner Charles Ramsey.
The armed man was said to be 5 foot 4 inches tall and in blue vest, a red hoodie and gray sweat pants.
READ MORE: Professor killed at Delta State University, suspected gunman reportedly dead
"We know who we're looking for. I'm not at the liberty to say right now," Ramsey told CBS. "Out of an abundance of caution we're going to sweep until we know the area is secure."
This comes only days after federal authorities issued a warning about a threat of violence made on social media against a university near Philadelphia. The deadline of that threat passed without incident.
Community College of Philadelphia is the largest public institution of higher learning in the city, with over 15,000 full-time students.