'Drops of blood:' Students describe horrific mass shooting at UCC in Oregon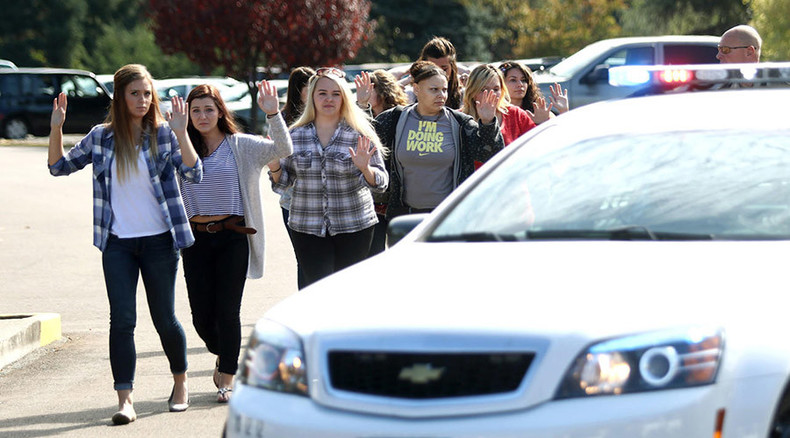 The violent shooting which left 10 people dead at a rural community college in Douglas County has shocked both local residents, and the nation as a whole. Students have shared witness reports from the tragic incident.
The shooting allegedly began in Umpqua Community College's Snyder Hall, which contained several classrooms, predominantly for English and writing lessons. Police quickly responded, the college went into lockdown, and the gunman died in an exchange of gunfire, according to law enforcement officials.
Kortney Moore, 18, told the Roseburg News-Review that she had been in her writing class in Snyder Hall when one shot burst through a window. She saw her teacher get shot in the head. The shooter was inside by that point, and he started telling people to get down on the ground. He then asked people to stand up and state their religion, and then started firing away, Moore said.
Moore lay on the floor alongside the people who had been shot.
Cassandra Welding , a 20-year-old junior, had been in a classroom next to the shooting when it happened, according to the New York Times. She heard several loud bursts, like balloons popping. A middle-aged woman behind her rose to shut the classroom door, and was struck in the stomach by several bullets.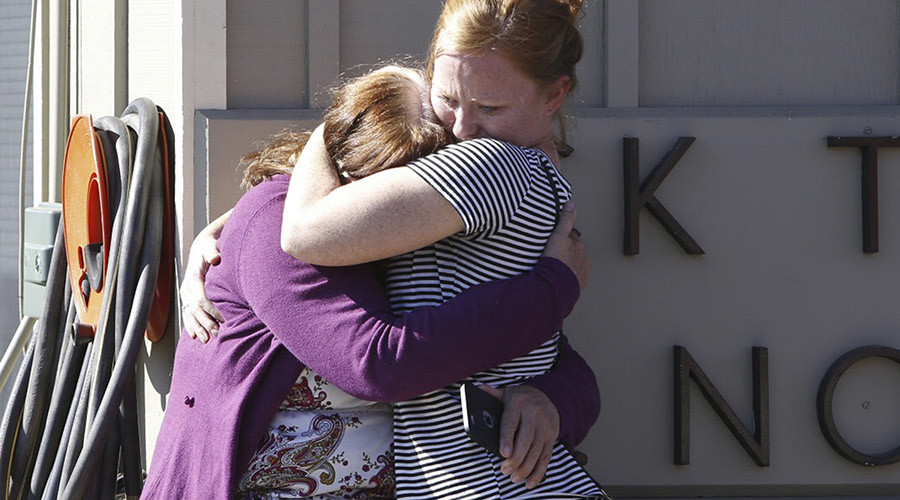 "He was just out there, hanging outside the door," Welding said of the gunman, "and she slumped over and I knew something wasn't right. And they're like, 'She got shot, she got shot.' And everyone is panicking."
A friend of the injured woman began delivering CPR, according to Welding. Then someone clicked the door shut, students huddled in the corner, blocking themselves with desks and backpacks.
"I heard more shooting," Welding said. "It was horrific. My whole body was shaking, a chill was going down my spine. We called 911."
According to audio from one of the 911 calls, the emergency dispatcher was heard saying there there was someone outside one of the doors in Snyder Hall and the individual was "shooting through the door," noting that one female had been shot at the time. The dispatcher said there were approximately 35 people the classroom.
Officers were heard telling the dispatcher that there were "unconfirmed reports" that the shooter had a gun while they tracked him to a classroom in the southeast side of the hall. They told the dispatcher that there were people suffering from multiple gunshot wounds at the scene.
The gunman was described as a 20-year-old man wearing a dark shirt and jeans who spewed bullets from what appeared to be three pistols and possibly a semiautomatic rifle.
Students told the media about how they hid between the desks and huddled in darkness as the shooter methodically sought out his victims. Some military veteran students guarded the doors, which did not lock, in case the shooter tried to enter.
Jasmyne Davis, 19, who had been in class when the gunfire began, told the Washington Post that she heard one gunshot, followed by a 30-second pause, an argument, and eight more shots from the classroom next door. She said a female classmate yelled, "close the door!" ran out of the classroom, was shot in the arm and fell back into the room.
Another student, Brady Winder, 23-years-old was in a separate writing class.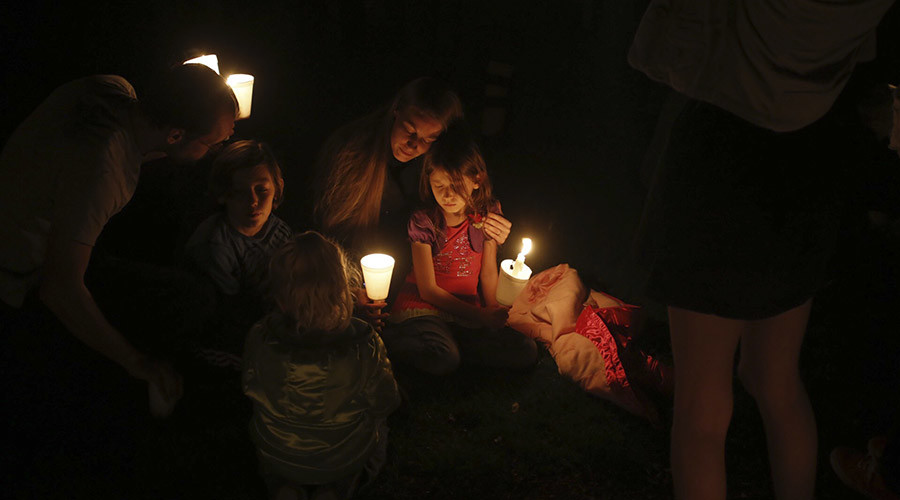 "We heard one shot," Winder told The New York Times. "It sounded like someone dropped something heavy on the floor, and everybody kind of startled. There's a door connecting our classroom to that classroom, and my teacher was going to knock on the door, but she called out, 'is everybody okay?' And then we heard a bunch more shots. We all froze for about half a second. Everybody's head turned and looked at each other, trying to just grasp what was happening, and someone said, 'Those are gunshots.' We heard people screaming next door. And then everybody took off. People were hopping over desks, knocking things over."
Luke Rogers was in the building next door at the time of the shooting and the facility was locked down. He told CNN that students were listening to police scanners on their phones to keep up with what was happening.
"We were all in class doing our projects. We actually didn't know something was going down at first. We thought it was just a drill, maybe, because we didn't hear any alarms or anything at first," said Rogers, a UCC student and witness, told CNN.
Rogers said they heard the numbers of people who had been injured and killed reported, but they didn't really know because they were locked down.
"When we exited the building the officers made us put our hands above our heads and leave in a single file line," Roger told CNN. "As we passed Snyder hall we saw the doors open and on the ground there were drops of blood."