College debt trickling down the family tree - report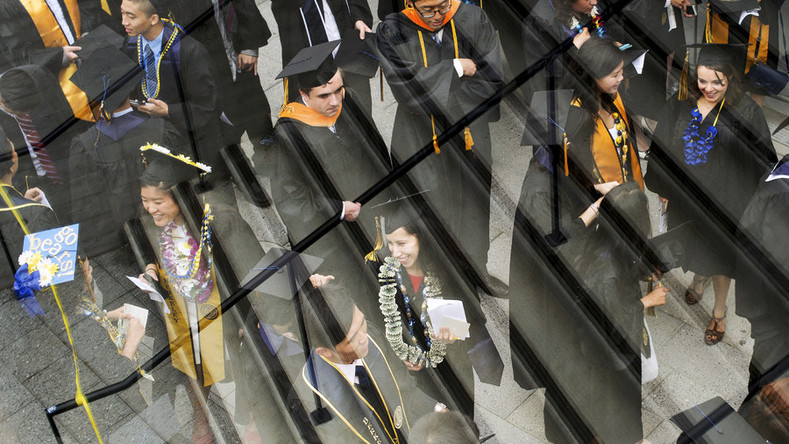 Americans caught up in the early stages of the student loan debt crisis still owe as much, if not more, than new college graduates. Now indebted parents who graduated years ago are struggling to save for their children's tuition as they near college age.
Indebted borrowers are now spending more to pay off their student loans than they are on groceries, according to an Associated Press analysis. "The average college-educated head of household under 40 owes $404 a month in student debt payments," according to Federal Reserve data analyzed by AP. That total amounts to just over the average supermarket bill for college-educated households, as reported by the US government reports.
In addition, Americans ages 35 to 50 ‒ those considered to be Generation X adults ‒ are carrying as much average debt as millennials under the age of 34, Pew Charitable Trusts reported. This older generation of debtors numbers around 6 million, AP reported.

These Gen-Xers borrowed in the 1990s, when loans were billed as a sound practice premised on the view that a solid college degree, no matter the school or major, would pay off for graduates, according to Peter Cappelli, a management professor at the University of Pennsylvania and author of "Will College Pay Off?"
READ MORE: Popping the education bubble: White House cracks down on for-profit colleges

Yet as debt rates have skyrocketed since then, inflationary-adjusted median income for college graduates has actually decreased since 1970, according to the Georgetown University Center on Education and the Workforce.

"We're in the early stages of a major social transformation," Josh Boak, who reported on the situation for AP, told Southern California Public Radio. "Right now there's about $1.2 trillion in outstanding student loans. We've seen that share disproportionately now belong to people who are older than forty."
That debt held by parents is affecting teenagers nearing college. Gen-X parents still paying off student loans are saving an average of $4,000 for their children's college tuition, as opposed to a $20,000 average for parents who are not paying student loans, according to Pew. This means children will have to take up their own loan obligations, continuing the cycle of family debt, AP reported.

"We've never had a historical era where so much debt was taken out at an early age," said Diana Elliott, research manager for financial security and mobility at Pew, according to AP.

Despite new college graduates' lack of earning experience, loan obligations average about $20,000 for both Gen-X and younger Millennials. This means many older adults have returned to school ‒ and taken out new loans ‒ to improve their job and earning prospects, while also taking out loans for their children's educations and are being offered longer repayment schedules.
While many have gone back to school, maybe to get a graduate degree in the hopes of a salary jump, a master's degree comes with an average debt price of $41,400, according to the US Department of Education. Meanwhile, a bachelor's degree comes with an average debt load of $27,300.

"This is one of those Catch-22's," Anthony Carnevale, director of the Georgetown University Center on Education and the Workforce, told AP. "If you don't take out the debt, you don't get the earnings. And you need the earnings to repay the debt."

About 17 percent of borrowers, or 7 million people, have gone at least a year without making a payment on their federal student loans.
READ MORE: Hillary Clinton pitches $350bn plan to subsidize college

The class of 2015 is considered the most indebted class of all time, though they will likely be superseded by the class of 2016. The average 2015 graduate with student loan debt owes more than $35,000, according to a recent analysis by Mark Kantrowitz, publisher at Edvisors, a group of websites about planning and paying for college. About 71 percent of bachelor's degree recipients will graduate with student loan debt; that number was less than 50 percent two decades ago.

Student loan payments that are seriously overdue make up about one-third of all types of seriously overdue debt payments in the US. The majority of colleges whose students owe the most are for-profit schools.

Last month, legislation was introduced in the US Senate that seeks to increase students' awareness of their loan obligations and their future ability to pay back federal loans.