Student debt amnesty: Victims of for-profit college fraud to get relief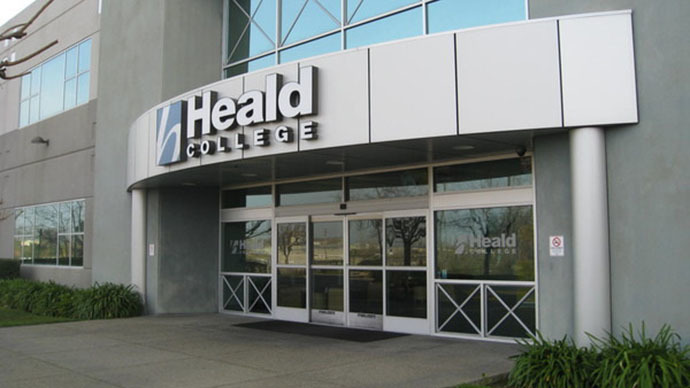 Former students of the now-shuttered, for-profit Corinthian Colleges may be eligible for debt relief, the US Department of Education has announced. The student debt-fueled institution filed for bankruptcy last month amid fraud allegations.
Students affected by the collapse of Corinthian Colleges Inc. can request a school loan discharge, the department announced Monday. Students can seek debt relief if they were enrolled when their college closed, or up to 120 days before it shut down. Students enrolled at colleges that were not closed could apply for relief based on a rarely-used provision of law, defense to repayment, the New York Times reported.
Students who believe they have been victims of fraud at any US school -- not just Corinthian -- must "assert that a college's actions violated state law and affected their provision of educational services or their federal loan" in order to be considered for debt relief.
"While some for-profit career colleges play a critical role in helping students succeed in their educational and training pursuits, too often, bad actors in the sector have preyed on some of our nation's most vulnerable students and taken advantage of hard-working Americans who simply want a better future for themselves and their families," Secretary of Education Arne Duncan said in a statement. "I am committed to ensuring that every student has access to an education that will put them on solid footing for a career, and I will hold schools accountable for practices that undercut their students and taxpayers."
READ MORE: Notorious for-profit Corinthian Colleges shuttering 28 campuses, displacing 16k students
In April, the Department of Education fined Corinthian $30 million based on falsified job placement data and other fraud allegations. Two weeks later, the institution announced it would close its ground campuses. It filed for Chapter 11 bankruptcy on May 4.
Corinthian's revenue doubled to $1.75 billion amid the Great Recession, from 2007 to 2011. The institution relied heavily on funding from federal student loans and grants. According to the company's filings, Corinthian schools generated $1.2 billion in government loans in its last year.
In recent years, Corinthian, one of the largest for-profit higher education systems in the US, has weathered steep cash shortages and a host of fraud accusations, including fake job prospects offered to students.
Last year, federal pressure pushed Corinthian to sell off most of its schools to a nonprofit student loan servicer. Yet many of those new campus owners were able to ditch Corinthian's liability while former students with Corinthian debt were not bailed out in similar fashion.
In 2015, dozens of former Corinthian students have engaged in a debt strike to protest the Department of Education's handling of the dodgy for-profit institution. Students – as well as state attorneys general, consumer advocacy groups, and members of Congress – have lobbied the department to lift its debt obligations based on allegations against Corinthian.
"The [Education] Department has chosen to bail out the company while sinking students in a lifetime of debt for degrees that many experts have called worthless," the debt strikers said in March.
Created in 1995, Corinthian Colleges once had more than 110,000 students at 100 Heald, Everest, and Wyotech affiliate campuses across the US.
"Where students have been harmed by fraudulent practices, I am fully committed to making sure students receive every penny of relief they are entitled to under law. We will make this process as easy as possible for them, including by considering claims in groups wherever possible, and hold institutions accountable," Duncan said Monday.