Popping the education bubble: White House cracks down on for-profit colleges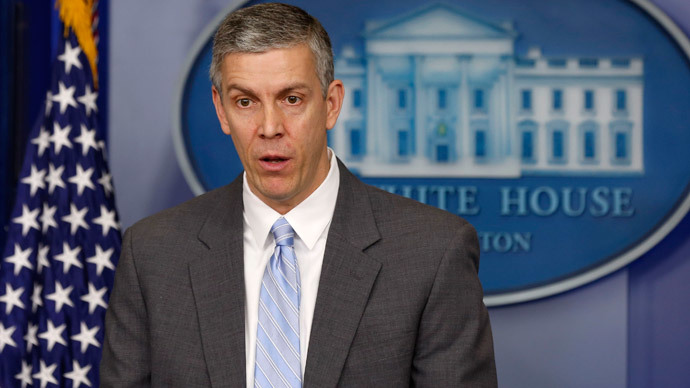 Under a new rule that just came into effect, colleges will lose federal funding unless they can show their graduates can actually get jobs and repay student loans. The government estimates 99 percent of students at for-profit colleges will fail the test.
Known as the "gainful employment rule," the new standard would deny federal financial aid to educational programs if their graduates had annual student loan payments greater than 8 percent of their total earnings, and greater than 20 percent of their discretionary income, which takes into account living expenses.
The Department of Education (DOE) estimated that around 1,400 programs, serving 840,000 students would not meet the accountability standard. The vast majority of the students in those programs, 99 percent, are at for-profit institutions.
Students at for-profit colleges are only 11 percent of the total US student population, but account for 44 percent of all federal student loan defaults, according to the federal authorities. Data from the US National Center for Education Statistics shows that 19 percent of for-profit students, almost one in five, default on their loans within three years.
Described by the DOE as the Obama administration's "signature effort to protect students and taxpayers," the new rule is part of a widespread crackdown on for-profit colleges. The Consumer Financial Protection Bureau, the Federal Trade Commission and the Securities and Exchange Commission have all investigated the industry, which also faced lawsuits and fines from state regulators and "blistering criticism" from Democratic Senators Elizabeth Warren and Dick Durbin, according to Politico.
The White House's biggest crackdown on for-profit college debt takes effect http://t.co/Epi81auLcT

— StudentDebtSucks (@StudentDebtsux) July 2, 2015
The original version of the rule was overturned by a federal judge in 2012 as too arbitrary. The Association of Private Sector Colleges and Universities (APSCU) challenged the new version of the rule as well, arguing it would deny access to higher education to 7.5 million students over the next decade. Last month, US District Court Judge John Bates ruled in favor of the government.
"Of course, the association might not agree with the department's explanations," Bates wrote in the 37-page ruling. "But that alone does not make them irrational, arbitrary, or capricious."
For-profit colleges took in about $22 billion in taxpayer-funded loans and Pell Grants in 2013. Industry representatives told Politico that the government is unfairly punishing them for enrolling high-risk students, who need access to flexible programs and are less likely to repay their loans.
READ MORE: Notorious for-profit Corinthian Colleges shuttering 28 campuses, displacing 16k students
The government has been particularly critical of the for-profits' recruitment of military veterans. A 2012 Senate report about for-profit colleges accused them of seeing veterans as "nothing more than 'dollar signs in uniform'."
Records from the Department of Veterans Affairs show that the University of Phoenix alone has received $345 million in government funding under the GI Bill, for enrolling about 50,000 Iraq and Afghanistan veterans last year, and $1.2 billion since 2009.
One major for-profit education company, Corinthian Colleges, shut down its 28 campuses in April after being fined $30 million by federal regulators for reportedly falsifying job placement claims. The Department of Education has offered debt relief to some 16,000 students affected by the Corinthian's closure.
Several major for-profit universities have announced the intent to sell or close down their campuses if the new rule went into effect.
You can share this story on social media: