Hillary Clinton pitches $350bn plan to subsidize college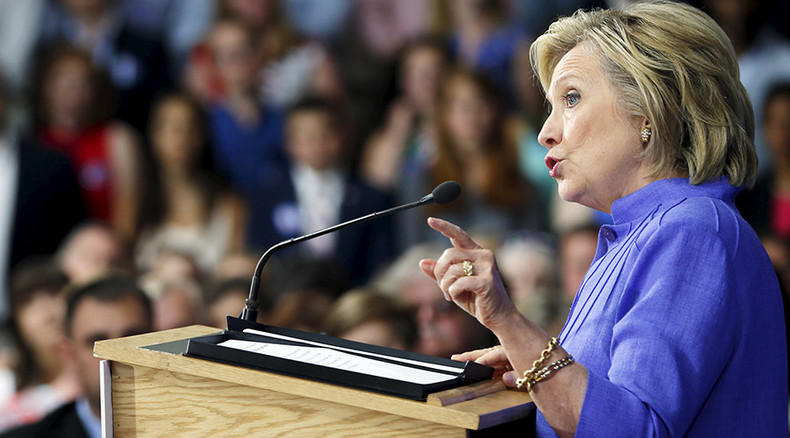 On the heels of college finance reform platforms offered by Bernie Sanders and Martin O'Malley, the Democrats' front-runner for the presidential nomination has made a similar proposal to ease student debt and lower the runaway costs of higher education.
Dubbed the New College Compact, Clinton's program was unveiled on Monday in New Hampshire. The campaign had previously leaked an outline of the proposal to the national media. The ambitious program envisions making community colleges free to all, eliminating the need for borrowing to pay for public universities, bringing down the costs of private colleges, and allowing existing debtors to refinance student loans, among other things.
Clinton also said she wanted to see federal grants apply to students' living costs, more support for historically Black and Hispanic-oriented colleges, and greater "accountability" from for-profit institutions. The program also calls for expanding AmeriCorps from the present 75,000 volunteers each year to 250,000, in order to make more students eligible for education benefits.
The Compact's cost was estimated at $350 billion over a 10-year span, which the campaign said would be funded by taxing the rich, without going into the details. Much of the sum would amount to grants to states and colleges to encourage better tuition plans that would make community colleges free and public 4-year programs more affordable.
The current system has saddled some 40 million Americans with a collective student loan debt of $1.6 trillion.
"Forty million Americans have student loans," Clinton wrote on her Medium blog, introducing the Compact. "Together, they owe more than a trillion dollars. And millions of Americans are delinquent or in default. Even if they do everything they can to pay their loans, they just can't keep up."
The federal government should not profit off student loans, Clinton said, adding that her reform proposal would see some 25 million Americans eligible to refinance their student loans at lower rates.
"If you can refinance your mortgage or your car loan, you should be able to refinance your student loan," she wrote. "It's just wrong that people are locked into college loans at 8, 9, even 10 percent."
Based on details leaked to the media ahead of the announcement, Clinton's proposal has been described as "similar" to the one proposed by former Baltimore mayor Martin O'Malley, who is also seeking the Democratic presidential nomination. Another contender for the nomination, Vermont Senator Bernie Sanders, has drawn large crowds with promises of free tuition and the expansion of social programs such as Social Security and Medicare.
While acknowledging the problem of runaway student debt, Republican presidential hopefuls have slammed the reforms proposed by Sanders, O'Malley and Clinton as throwing good money after the bad.
"Traditional colleges, every time you add more money in financial aid, they raise their tuition rates," Florida Senator Marco Rubio told Fox News, calling the existing education system "outdated." Rubio proposes to make colleges more competitive by accrediting more online programs and other lower-cost alternatives that would drive prices down.
"We don't need more top-down Washington solutions that will raise the cost of college even further and shift the burden to hardworking taxpayers," said Jeb Bush, another Republican contender.
Clinton's proposal relies on states to administer grant programs, something critics say will be difficult to achieve in practice, pointing to the sluggish response from states to President Barack Obama's flagship healthcare reform.