Presidential hopeful Senator Bernie Sanders wants free public college tuition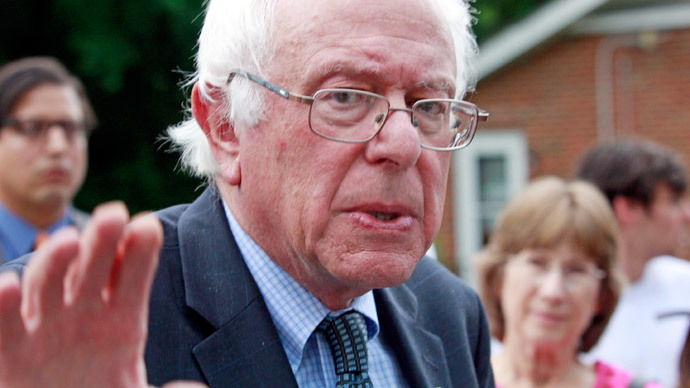 United States Senator Bernie Sanders (D-Vermont) wants to see the cost of college reduced and hopes to achieve this with a free tuition plan he's expected to unveil on Capitol Hill this week.
The 73-year-old junior senator, who also happens to be pursuing the Democratic Party's nomination in the 2016 presidential election, said in a statement that he plans to present a proposal to the Senate on Tuesday calling on public colleges in the US to begin offering free tuition.
According to Sanders, his initiative will aim to get more Americans enrolled in college using a pricing system that's common abroad, but a far cry from the system in the US today. The current US system has saddled some 40 million Americans with a collective student loan debt of $1.6 trillion.
"We live in a highly competitive global economy and, if our economy is to be strong, we need the best-educated workforce in the world. That will not happen if, every year, hundreds of thousands of bright young people cannot afford to go to college, and if millions more leave school deeply in debt," the senator said on Sunday.
READ MORE: Enter the Sand-man: Socialist Bernie Sanders blasts billionaires, corporations in presidential bid announcement
Although he has not made the language of the proposal public just yet, the senator said in a statement that he would seek to "substantially lower student debt and bring down interest rates on college loans."
The Vermont senator said, "I want a more educated work force. I want everybody to be able to get a higher education regardless of their income.
Countries like Germany, Denmark, Sweden and many more are providing free or inexpensive higher education for their young people. They understand how important it is to be investing in their youth. We should be doing the same."
Earlier this month, Sanders announced that he would be seeking the Democratic Party's nod for next year's presidential race. His latest initiative to lower tuition costs is expected to prompt the party's frontrunner, Hillary Clinton, to weigh in on the issue as well. Clinton's campaign manager has already acknowledged that "debt-free college" is an issue that the former secretary of state believes is important to young Americans, according to Bloomberg.
President Barack Obama said at an address earlier this year that "One of the things that's been uppermost on my mind is how do we make sure that every young person in this country who is willing to put in the effort can afford to go to college." Subsequently, the White House issued a 'Student Aid Bill of Rights' in March containing imperatives Obama believes should be afforded to the nation's growing number of student loan debt holders.
"I want to lower the cost of community college to zero," Obama said earlier this month during a speech at a school in South Dakota. "We can't afford to let striving Americans be priced out of the education they need to get ahead."