Arizona freeway shooting 'copycat' teens arrested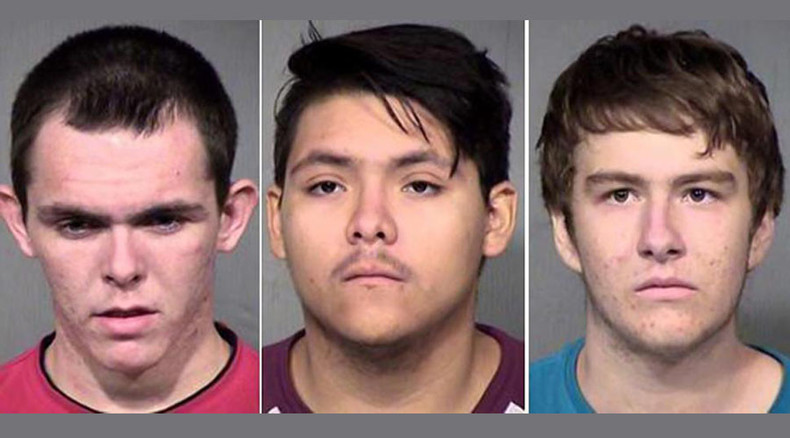 Three Phoenix-area teenagers have been arrested for allegedly shooting projectiles with a slingshot at cars along a surface street. The arrests come as police are investigating 11 shooting incidents on nearby freeways that are unrelated to the teens.
Christian Cook, Albert German, and Aaron Nottingham – all of Mesa, Arizona – shot at several cars and pedestrians on Saturday afternoon and evening, Maricopa County Sheriff Joe Arpaio and Arizona Department of Public Safety Director Frank Milstead said at a Sunday news conference.

The 18-year-old "copycats," as they were described by Milstead, were arrested after a victimized couple, whose car window was broken by a projectile shot by the trio, noted a license plate of the suspects' vehicle, authorities said.
"The victims were smart enough to get the license plate of the [suspects'] vehicle as it went alongside their vehicle...it was very critical," Arpaio said, according to the Arizona Republic. "It led to the arrest."

The teens were reportedly driving in the area of State Route 24 from 3 to 7 p.m.

"At the end of the day, the three 18-year-olds have all done criminal damage and conspiracy," Milstead said.
READ MORE: 11 attacks confirmed in Arizona freeway serial shootings – police

The teens' arrest comes as Maricopa County Sheriff's Office and the state Department of Public Safety (DPS) are searching for answers after 11 different instances of freeway shootings have occurred, mostly along an eight-mile stretch of Interstate 10, since August 29.

Many drivers have avoided area freeways since then, and officials have barred school buses from using local freeways. Eight of the cars were hit with bullets and three with projectiles that could have been BBs or pellets. One girl's ear was cut by glass when a bullet shattered her car window. Officials are unclear if the shootings are related.

DPS has kept an "incredibly large footprint" along I-10, Milstead said Sunday.
READ MORE: Patrol of armed citizens hunting for Arizona freeway sniper

"Somebody out there knows something, and I need to know what they know," he added. "None of this is fun and games; it's all very serious. None of us should drive the freeways or any roadway and worry about having items randomly thrown at our vehicles."

Milstead has called the shooter or shooters cowards engaging in "domestic terrorism," according to ABC News.

Last week, one man was taken into custody as a person of interest in the case, but he is not considered a "primary suspect," the Republic reported.