Patrol of armed citizens hunting for Arizona freeway sniper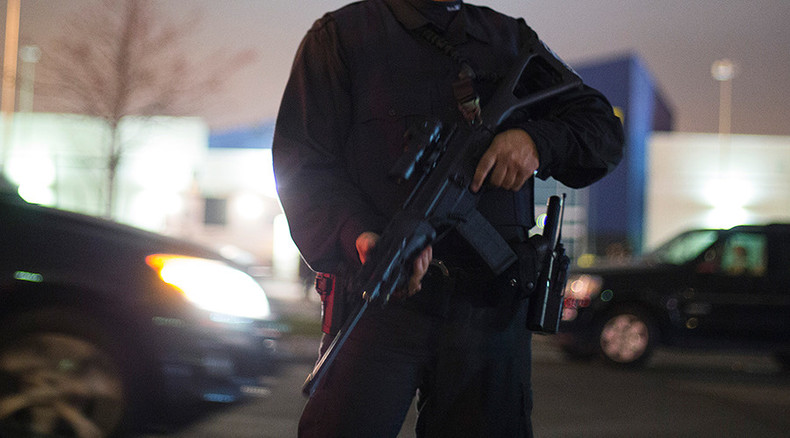 As Arizona police question a man regarding the serial freeway shootings that have rocked Phoenix over the last two weeks, the "Bolt Force" citizens' patrol, dressed all in black and armed with semi-automatic weapons, has begun searching for the gunman.
Police took a man into custody on Friday as a "person of interest," but no arrests have been made yet, despite a $20,000 reward. There have been 11 reported attacks since the sniper or snipers began shooting along Interstate-10 on August 29.
Phoenix drivers have been unnerved since then, a situation that prompted four members of a "vigilante" group called Bolt Force to start foot patrols on Wednesday in the hope of finding the culprit. They spent the night walking the neighborhoods, looking for shell casing and spots where a sniper could hide and shoot.
With residents jumpy already, a person tipped off police about the suspicious-looking group, and its leader, Tony Rowley (aka "Bolt"), was detained and questioned.
"The communication error caused resources to be drawn to me instead of the shooter which is bad, and it wasn't a result of me, it was a result of a breakdown in communication," Rowley told Fox10 Phoenix.
"I believe our presence at night in the dark can be effective."
Bolt Force was not created in reaction to the freeway shootings, however. It has already existed for approximately five months and is made up of former bounty hunters, ex-cops, and security personnel from Arizona, Nevada, and even Durban, South Africa.
"We would prefer they let us handle this investigation," the Arizona Department of Public Safety (DPS) said in a statement. DPS has organized overt and covert operations to sweep the freeways for any evidence.
The shootings have taken place mostly along I-10, a major route through Phoenix. Many drivers have avoided freeways since then. Eight of the cars were hit with bullets and three with projectiles that could have been BBs or pellets. One girl's ear was cut by glass when a bullet shattered her car window.
Fortunately, no one has been killed.
DPS' Colonel Frank Milstead told KTAR radio this week that if the shootings are a game that someone or some people are playing, "it is going to end in death."
"I look back at the 13-year-old girl that was cut by glass. For someone to think that it is okay, that it is proper to take someone's life for a sport or a game, that's despicable," said Milstead. "If you know something…you have to come forward."
The Associated Press reported that authorities have appealed for help through social media, news conferences, TV interviews, and freeway message boards, where messages run in gravity from the mundane "report suspicious activity," to the more worrying "shooting tips," and on to the menacing "I-10 shooter tip line."