'Maniac' gunman leads LAPD on high-speed chase, carjacks mother of 2 on live TV (VIDEO)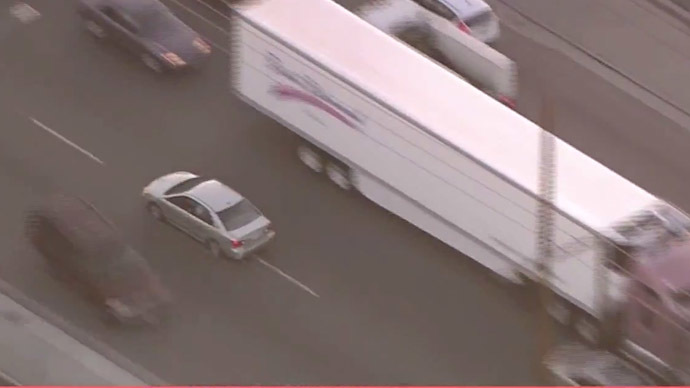 In a car chase more reminiscent of 'Grand Theft Auto' than the usual Los Angeles high-speed chase, a gunmen led police officers the wrong way down city streets, crashed at least six times, carjacked a car and more ‒ all during rush hour and on live TV.
It takes a bit extra for the residents of La-La Land to take notice of a car chase in an area "notorious" for them, according to KNBC. It is, after all, where Kato Kaelin and his white Ford Bronco became famous by helping O.J. Simpson flee the LA Police Department. And, during Monday's afternoon rush hour, a madcap pursuit that culminated in gunfire made the denizens of the City of Angels sit up and take notice.
The wild ride began around 5:15 p.m. local time east of downtown LA after LAPD officers spotted a Toyota Camry with a license plate listed as stolen, the Los Angeles Times reported. They called for backup before attempting to pull over the driver, to no avail.
Instead, the armed man drove off, zooming through traffic ‒ sometimes going the wrong way ‒ at speeds of up to 60 mph on surface streets through southeast Los Angeles County and neighboring cities. He sped through intersections, ignoring red lights, double-yellow lines and other cars.
Watch: Dramatic Video of LA Car Chase: The suspect led LAPD in a high speed chase in carjacked vehicle. http://t.co/sqiW8hyVO4

— World_News_N1 (@World_News_N1) February 10, 2015
The suspect seemed to be driving a real-life bumper car, smashing into at least four vehicles. One of those belonged to Martha Duron, who was in her car when it was hit.
"[I'm] very blessed because … if he would have hit me hard in the front, I would have been gone. He was going so fast," she said to KCBS.
Car chase getting crazy out in L.A. (Video Source: CBS LA) https://t.co/BEY0sPamTu#CHASE#BREAKING#LA

— LEAFSFAN2.0 (@LEAFSFAN202) February 10, 2015
Moments later, the Camry became disabled. The man, believed to be 30-35 years old, jumped out and approached a woman at gunpoint, and stole her car.
"He just came up to me and pointed the gun at me and told me to get out of my car, and he just took off with it," 22-year-old Elizabeth Yarahuan told KABC. "He was pointing the gun at me so I just got off the car and ran. I was just scared he was going to hurt me."
"I unbuckled my stuff and I opened the door and ran out," the victim, a mother of two, told KCBS. "It was horrible. I don't wish that on [anybody]."
I've never watched a 25 minute car chase before https://t.co/aLl9aZ6I8m

— MichaelBills (@MichaelBills) February 10, 2015
Maggie Barroso witnessed the carjacking as it unfolded in front of her.
"He tried to carjack the car in front of her. He couldn't open [the door] so the driver just took off, and then after I saw him running to her car. He did the same thing and he was just pointing [the gun] right at her," Barroso told the ABC affiliate. "And then, you know, after when everything happened I saw her, she was completely shaken up, and the least I can do is come and assist her."
The driver continued northbound on the 710 Freeway, then returned to surface streets before ending up on the 60 Freeway, KCBS reported. He had at least eight police cars chasing him with several helicopters tracking his movements, according to the LA Times. News choppers broadcast the chase live on air.
Car chase in LA https://t.co/o8hLXXsGzM

— Fauzan Taswin (@FauzanWin) February 10, 2015
The suspect then managed to wedge Yarahuan's car between two others on a street just off the highway. He fled on foot and approached several other cars in an attempt to steal yet another, while pursued by about a dozen officers.
When he pulled out his gun again, at least three cops opened fire on him, with multiple shots striking him. The LAPD officers then surrounded and arrested the suspect.
"This individual acted with a complete disregard for other people's lives," Los Angeles Police Department Cmdr. Andy Smith told the LA Times. "He callously put innocent people's lives in danger, even after the police backed off the pursuit and tracked with the helicopter. Thank God no one was killed by this maniac."
The injured gunman has not been identified and his exact condition is unknown, Sgt. Frank Preciado said.
You can share this story on social media: