Building collapses in Kansas City after stolen SUV slams into it (VIDEO)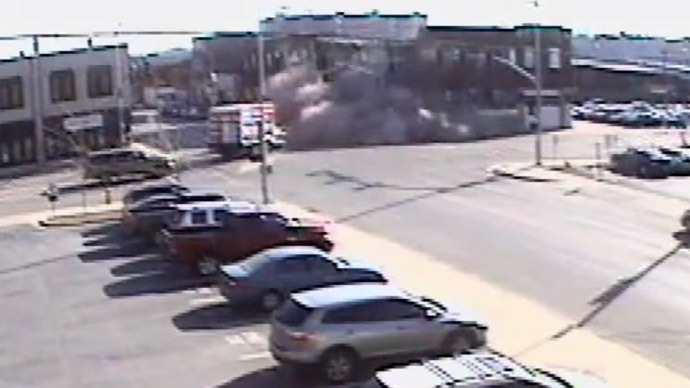 A woman led police on a high-speed chase through Kansas City, Missouri that ended when she lost control of a stolen SUV and crashed into a building, causing it to partially collapse on her and the antique vehicles housed inside.
The white SUV was reported stolen on Thursday morning, and police spotted the vehicle, but did not pursue it at that time, Capt. Chris Sicoli told KSHB. Later that morning, however, a detective spotted the SUV running a stop sign and traveling about 80 mph, at which point a chase was authorized. The officer was concerned the speeding car would hit someone or something, creating a special situation, KMBC reported.
"That fast, without any regard for red lights or stop lights or stop signs, we have a lot of blind intersections in this city," the captain told KCTV. "Anybody could have been hit at any time coming through those intersections. That's why the pursuit was authorized."
Cynthia Bell told reporters she was sitting in her car when she saw the car driving by.
"They was doing at least 80 or 90 down a main street not a highway a main street," she said. "As fast as she was going, as fast as they were chasing her, I knew something was going to happen."
"I was about to cross the street when she was coming down the street and I said, 'What is she going so fast for?'" Bell added.
Moments later, surveillance video shows the car hitting a fire hydrant, then slamming into the corner of the building.
"It was like a bomb. It was like boom, boom!" Bell said. "If it could shake the ground, it would have because everything collapsed. It was like in slow motion, and I was praying for her more than anything. That's all I could think about was her regardless of what she did or what happened. It doesn't have to end there."
Battalion Chief James Garrett, a spokesman for the Kansas City Fire Department, said the building was weakened when the SUV went into the building, which caused the partial collapse to happen. The driver had to be removed from the vehicle, but only after suffering non-critical injuries. She was taken to a nearby hospital, where she was in stable condition Thursday afternoon. Charges are pending, according to KCTV.
Garrett called the driver lucky, WDAF reported.
"If you can see all the bricks and the building on top of the car, as well as the other vehicle, the party actually had to be extricated," he said.
The property's owner, Chris Willsey, was already on his way there when he got a call saying his building, which dates back to the 1920s, had been struck.
"Definitely not the call you want to get," he told KSHB. "I've been trying to sell the place and wish I would have before this happened."
Willsey keeps about a dozen unrestored antique vehicles from the 1940s, 1950s and 1960s inside the former Ford dealership. He said an inspector from Kansas City Dangerous Buildings told him the remaining part of the building is stable enough to keep, according to KSHB.
"As long as they let me in the building to get them out of there, I'll definitely try to save the cars," he said. "The priority is on saving the building."
"This is going to cost a lot of money and it's going to be a lot of trouble," Willsey told KMBC.
Engineers are trying to restore the building, but are still assessing whether it will need to be completely demolished.
The chase lasted 18 blocks, police said.
You can share this story on social media: