Arizona sniper? Four random cars hit by bullets at I-10 in 3 days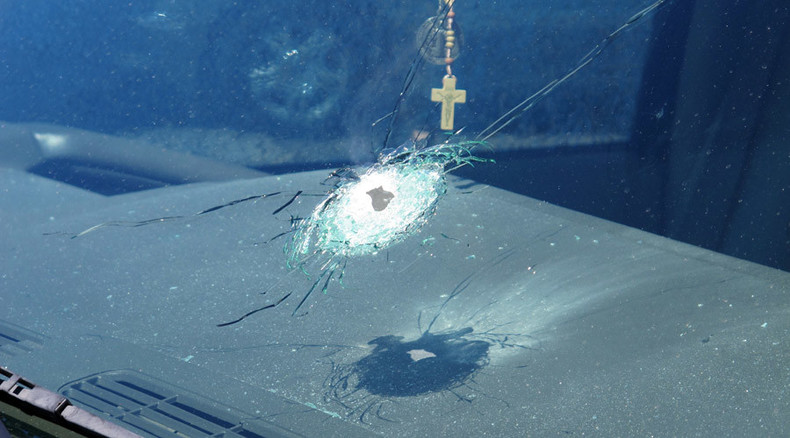 Drivers in Arizona are on high alert after four vehicles have been fired at in the past three days at I-10 near Phoenix by a shooter who remains at large. The Department of Public safety fear the incidents "could end in tragedy" if the shooter is not identified.
All four shootings have been reported separately starting Saturday, August 29. It was not immediately clear if the incidents were related.
At a Monday press conference, the DPS spokesman Frank Milstead said that it is now being assumed that the shootings are random and the targets have nothing in common. However, he called on drivers to be cautious.
The first two shootings happened along I-10 between 11 and 11:10 am at 19th Avenue and 59th Avenue on Saturday.
"The front seat passenger, a 13 year old female, sustained a cut to her right ear, and was treated on-scene by the Fire Department; she was not transported," the DPS statement read.
The second incident involved a passenger-type bus with only a driver on-board. The man was not injured.
"I almost fainted," bus driver Robert McDonald told 12 News. "The wind got knocked out of me."
DPS photos show the bullet traveled through the body of McDonald's bus as well as through some off the seats inside.McDonald has told 12 News he thinks that he was the shooter's target.
"When someone's taking pot shots at you for doing your job," McDonald said, "minding your own business, we definitely have a problem."
The third shooting happened around 10:15 pm on the same road at 16th Street.The victim reported hearing a loud banging sound. However, she did not notice bullet holes on the passenger side of the vehicle until she inspected the vehicle on Sunday.
The forth shooting had been reported at 4:25 am Monday on I-10 eastbound near 24th Street. "A man driving a work truck heard a loud bang and thought that a rock struck the company truck," the DPS said.An inspection of the company truck revealed the driver side front headlamp had damage consistent with a bullet strike.
In all four cases the DPS spokesman stressed that multiple rounds were fired at vehicles while they were moving. Investigators assume that the shooter was also in a vehicle traveling on I-10.
"I couldn't tell you what their intent is. I just know we've had bullets hit the sides of the cars, we've had bullets hit windshields so they've hit on different parts of the cars," explained Milstead.
Detectives are working non-stop to identify the shooter, who the media has already dubbed "Arizona sniper."
"Our detectives are working nonstop on this particular case," he said. "It is obviously a big concern for us."
Speaking at the press conference, Milstead warned Valley freeway drivers to stay vigilant as the department is concerned that continued incidents "could end in tragedy" if the suspect is not located.
"Should you be concerned? Absolutely," Milstead said. "You should be concerned because we have someone or some people shooting guns at moving cars on Interstate 10."
Investigators have called on the public to come forward with information that will help police to locate the perpetrator.
In 2002 a series of coordinated shootings hit several locations in the DC area and along I-95 in Virginia over 21 days in October.
The rampage claimed lives of 10 people while another three victims were critically injured.
The sniper-style shootings were carried by John Allen Muhammad and Lee Boyd Malvo, who at the time was a 17-year old teenager.
Muhammad was sentenced to death in September 2003 and executed six years later by lethal injection at the Greensville Correctional Center near Jarratt, Virginia.
Malvo is serving six consecutive life sentences without the possibility of parole.