11 attacks confirmed in Arizona freeway serial shootings – police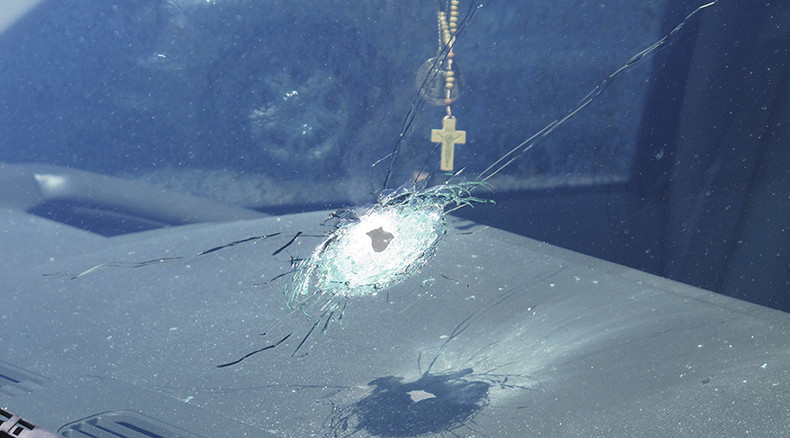 Arizona police confirmed an eleventh attack on Thursday in a spate of serial freeway shootings near Phoenix along Interstate 10. In the latest incident, a bullet pierced the side of a tractor-trailer.
Police said no one was hurt in the incident and that they could be dealing with more than one gunman. They are investigating another incident where a projectile damaged the window of a car, according to NBC News.
The shootings began on August 29 along a route used by hundreds of thousands of people in Phoenix, Arizona. To date, no one has been killed.
Arizona Governor Doug Ducey pleaded for the public's help on Thursday.
"I'd ask Arzionans to remain alert and aware, and we are going to find who's doing this and bring them to justice," Ducey said during a press conference.
According to local radio station KTAR, people in the area say they have changed the route of their commutes because they are afraid of getting on I-10. Police are offering a $20,000 reward for information leading to an arrest and conviction.
"Right now there is a real and continuing threat to Arizona motorists…This is a paramount priority for the Arizona Department of Public Safety (DPS) and our law enforcement partners," said Colonel Frank Milstead of the DPS, according to NBC.
Despite the number of attacks, there has only been one injury – a 13-year-old girl whose was ear was cut by glass when the window of the car she was traveling was hit.
An empty tour bus was also hit by a bullet that sliced the seat just behind the driver. Robert McDonald said if the bullet had been a little more powerful it would have grazed his shoulder.
"And if I would have moved my head," he told NBC, "I would have got hit."
Milstead told KTAR that if the shootings are a game that someone or some people are playing, "it is going to end in death."
"I look back at the 13-year-old girl that was cut by glass. For someone to think that it is okay, that it is proper to take someone's life for a sport or a game, that's despicable," said Milstead. "If you know something…you have to come forward."
Detectives are currently investigating 10 other shootings. Over the past two weeks, bullets have hit eight vehicles – an SUV, an unoccupied commercial tour bus, three passenger cars, a pickup truck, and a box truck, as well as the most recent tractor trailer. In addition, projectiles have hit a box truck and two pickup trucks.
Police make the distinction between bullets and "projectiles" when they don't find a round in the vehicle, or when it doesn't penetrate, which creates uncertainty about what caused the damage.
"If it's a pellet rifle [used in the shootings], it is still just as lethal as a gun. Those rounds from a pellet rifle travel about 1,200 feet per second. They don't have as much mass so they don't have as much energy, but that's the same velocity as a 9mm handgun," Milstead told KTAR.
"It is all very dangerous."
The attacks have occurred at all times of the day. Milstead said they will solve the crime in one of two ways, either through a tip or by the diligence of detectives and trooper.
"We have different MOs [in the shootings]. It doesn't mean it is not the same person but there are different weapons. I don't know if it is one or multiple people or a group," Milstead said. "We just don't know that. We will determine that through time."
Officials said they are using undercover and marked assets near the freeway 24 hours a day to look for information. They are also taking tips from a hotline and looking at camera footage, but they added that the affected area is very large.
The shootings have drawn comparisons to the sniper attacks that terrorized the Washington, DC area in the fall of 2002. Ten people were killed in those shootings, which targeted drivers pumping gas and people out doing other ordinary errands.
One gunman from that series of shootings, John Allen Muhammad, was executed in 2009, and his accomplice, Lee Boyd Malvo, is serving life without the possibility of parole.
Clint Van Zandt, a former FBI profiler and NBC News analyst, said the Phoenix gunman is feeding on terror.
"He knows the time he wants to be out there. He knows the location," he said. "He, in his mind, is playing this chess game with the authorities."