Cruz accused of 'party crashing' Huckabee's Kim Davis rally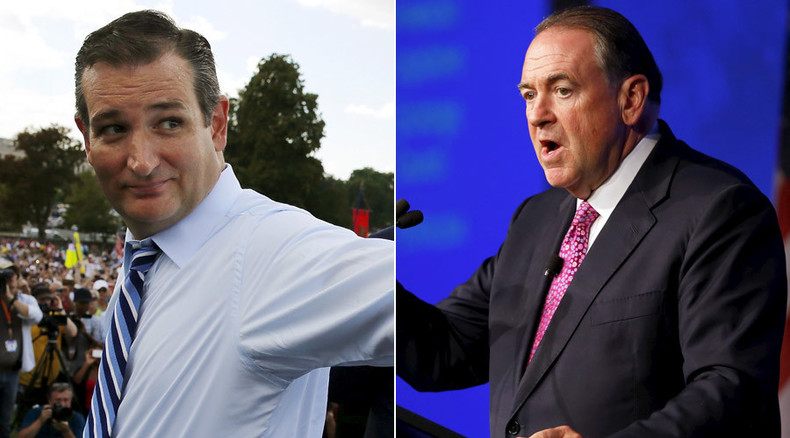 Republican presidential candidate Sen. Ted Сruz was acting surprised when he was not allowed to get to the stage by fellow GOP candidate Gov. Mike Huckabee's men. Now the ex-Arkansas governor accuses the Texas senator of party crashing.
Cruz failed to capture the spotlight after he was physically blocked by Huckabee's staff in attempt to talk to media at the rally in support of Kim Davis, the Kentucky clerk released from jail on Tuesday.
READ MORE: Judge orders Kim Davis released from jail
An MSNBC video of the incident showed a Huckabee staffer blocking the senator as he approached the stage toward beckoning journalists.
Following the incident, the senator was seen standing near the stage, keeping a low profile as Davis and Huckabee addressed the crowd.
Commenting on the incident, Huckabee accused Cruz of party crashing.
"Look, I invited him to come and meet with Kim Davis. It was our event. We were kind of surprised that he showed up," Huckabee said on Fox News on Wednesday. "The program of course, was already settled," he added.
A Huckabee aide told Politico.com speaking off record that Cruz should have asked for permission first.
"We planned, paid for, and promoted the event and Sen. Cruz showed up the day of and tried to take it over. It would have been the equivalent to us showing up at their religious liberty event in Iowa a couple weeks ago, claiming it was our event, and expecting to give the keynote speaking role," he said on Wednesday.
"First time any of us have ever seen a presidential candidate crash another candidate's event without so much as reaching out to get permission to attend. Bizarre."
However, Cruz was successful in getting a picture with Davis following the media conference. Showing proof of their unequivocal support, the two presidential hopefuls later posted similar photos smiling with Kim Davis on Twitter.